Berberis thunbergii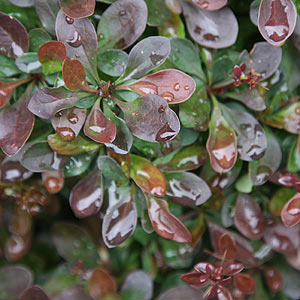 A deciduous variety, Berberis thunbergii and its cultivars are easy to grow, widely used as hedges and are popular for their foliage, they are used widely in landscaping applications because of the easy care nature. Brilliant red foliage in autumn is an added attraction to these deciduous plants.
Some smaller growing varieties are also available, compact in habit and excellent in rockeries, for growing in containers and as a low edging plant. Some upright forms are also available such as Berberis thunbergii f. atropurpurea 'Helmond Pillar'
The thorns of Berberis thunbergii make this a great barrier hedge, not to many animals or people will push their way through a Berberis hedge. It is also a plant that birds love as it provided protection.
Varieties include
Berberis thunbergii atropurpurea - Good red to purple foliage on a strong and hardy bush.
Berberis thunbergii atropurpurea nana - Lower growing cultivar reaching around 2 ft in height depending on conditions.
Berberis thunbergii orange rocket - An upright cultivar with new foliage a brilliant orange turning a deeper color with time.
Berberis thunbergii rose glow - Rosy red foliage gives it the name.
Berberis thunbergii aurea - Buttery golden yellow foliage turning orange to red in autumn
Care
Best grown in a sunny position in a moist but well drained soil.
Dig in some well rotted compost before planting and water in well with a liquid seaweed fertilizer.
Newly planted Berberis thunbergii can take 2 - 3 years to flower, so be patient. They are also a plant that flowers on old wood, so pruning will not inhibit flowering if done at the right time of the year.
Pruning Berberis thunbergii
If you decide to prune, wear some gardening gloves to protect your hands from the thorns. You can prune back any growth that seems a little wayward from autumn through to early spring. Although one of the great things about Berberis thunbergii is that it needs little pruning and is low maintenance.
Berberis thunbergii are available for sale from the following nurseries or growers

HEDGES DIRECT Ltd - Phone 01257 263873
Five Acres Nursery Dawbers Lane Euxton PR7 6EE
Huge range of beautiful hedging plants, bare root, cell grown, pot grown, or root balled. All the main hedging species in all sizes. Thousands of satisfied customers. Discounts on large orders. Min order value £20 & FREE DELIVERY on orders over £50. Advice by phone or email helpdesk@hedgesdirect.co.uk
www.hedgesdirect.co.uk

CR?õG FARM PLANTS - Bleddyn & Sue Wynn-Jones,
Telephone: (+44) 01248 670232
Griffiths Crossing, Caernarfon, GWYNEDD, LL55 1TU
Include Berberis, shade plants, climbers, species Hydrangea, Araliaceae, rare trees & shrubs, Convallariaceae, herbaceous & bulbous.
www.mailorder.crug-farm.co.uk

You may also be interested in