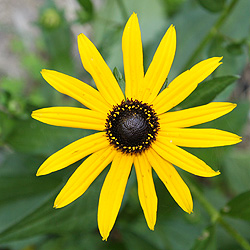 Rudbeckia
With bright bold colorful flower, Rudbeckia (coneflowers) are a great addition to the garden border. An easy plant to grow prefering a humus rich soil and full sun for best flowering results.
For repeat flowering try deadheading as the flowers fade, this also prevents self seeding. Rudbeckia Goldstrum (pictured right) is a wonderful yellow flowering cultivar that adds masses of colour tothe garden
Species such as R. purpurea or 'Purple Cone Flower' and R.fulgida or 'Black eyed susan are popular. R. occidentalis and R.Hirta are also worth looking for along with many cultivars
Rudbeckia Varieties
Rudbeckia purpurea also known as Purple Cone flower (Echinacea). Long lasting purple flowers on tall stems. The daisy like flowers are a purple, mauve colr with burnt orange centres. Plants should cost around £ 3-4.
Rudbeckia fulgida 'Goldstrum' (Black eyed susan) has yellow flower petals with a dark centre, like most Rudbeckia its a tough border plant that can handle dry conditions. Rudbeckia fulgida var. deamii is a popular cultivar. Rudbeckia occidentalis has green petals and a very dark crimson centre.
Cultivation
Rudbeckia can be grown from seeds, sow in March. In the garden a sunny position in a humus rich well drained soil is best.
Rudbeckia are available for sale from the following nurseries
NORTHBROOK NURSERY phone: 01202695256
marg@northbrooknursery.co.uk
47 Northbrook Road, Broadstone, Dorset BH18 8HD
Small nursery selling unusual perennials for your garden. Ring for appt.
SPECIAL PLANTS phone: 01225 891686
Greenways Lane, Cold Ashton, Chippenham, Wilts SN14 8LA
Includes: Eryngium bourgatii, Eryngium ebracteatum, Eryngium giganteum 'Silver Ghost'