Aucuba Japonica
One of the best variegated foliage plants for the garden border is Aucuba Japonica also known as the 'Gold Dust Plant' or Spotted Laurel. A hardy plant with beautiful glossy foliage flecked with brilliant gold splashes A. japonica will eventually reach around 3m but is easily get in shape with a little pruning.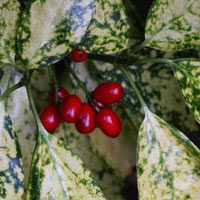 Although a great plant in the sun we feel that Aucuba Japonic comes into its own in the shaded border as a foil for the green plants such as rhododendrons and camellias.
In the winter when little is flowering We find that A. japonica adds a splash of life with the golden flecked leaves looking brilliant on a cold winters day. Red berries are an added attraction (see picture right)
These plants can also make a good hedge or screen, dense growth makes well suited to this as does the fact that they are extremely long lived and respond well to being cut back. How long will they take Aucuba japonica to reach a good size ? In around 6-9 years they will be at full size (3m depending on conditions). A. japonica rozzanni is a popular cultivar as is A. Japonica crotonifolia
Planting and Growing Information
Although they are tolerant of poor soils and dry conditions, ideally a humus rich moist but well drained soil in sun to part shade is best. Deep shade can tend to lanky growth, but Aucuba Japonica respond well to to pruning so even then they can be kept in shape. The roots of this plant are close to the surface, so try not to dig around it to much, a good idea to mulch well to retain moisture.
Dig in some well rotted compost and manure and water in well with some liquid seaweed fertilizer and your Aucuba Japonica or 'Gold Dust Plant' will thrive.
Aucuba Japonica are available for sale from the following nurseries

HEDGES DIRECT Ltd - Phone 01257 263873
Five Acres Nursery Dawbers Lane Euxton PR7 6EE
Huge range of beautiful hedging plants, bare root, cell grown, pot grown, or root balled. All the main hedging species in all sizes. Thousands of satisfied customers. Discounts on large orders. Min order value £20 & FREE DELIVERY on orders over £50. Advice by phone or email helpdesk@hedgesdirect.co.uk
www.hedgesdirect.co.uk
You may also be interested in