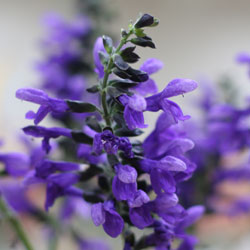 Salvia Plants, Varieties and Species for sale in the UK
Salvia are a large group of perennial plants that include the culinary Garden Sage (salvia officianalis) as well as a wide range of ornamental salvias which we will concentrate on in this article.
With much hybridisation by specilaist growers and the introduction of new species the number of salvia cultivars available for sale increases every year.
Salvia 'Omah Gold' pictured right is not a golden color at all but a pretty form of 'costa rican blue'. Lovely blue flowers with a slight variegation in the foliage. Protect from frosts.
Many birds seem to love these plants when in flower, they make a great addition to the garden if you wish to attract birds and bees to the garden. Drought tolerant and virtually disease resistant salvia plants prefer a warm sunny position in a humus rich well drained soil. Specialist salvia nurseries sell a wide range of plants by mail order, including many rare and interesting species as well as new and improved flowering forms
Salvia care and growing conditions.
Salvia plants need little care and tend to grow well even in poor soils, however a humus rich well drained soil is best, fertilize with a seaweed fertilizer in early spring as plants begin to come to life.

Salvia plants can be pruned to keep in shape and most seem to cope well with being pruned back hard if required. In colder areas try pruning back in spring once the frosts are over.
Different species require slightly different pruning methods, and instructions usually come with the plants, however they are a hardy plant and no great care is required. Try for at least 6 hours sun each day and they are usually happy. Many smaller growing salvias can easily be grown in pots or containers if required.
Best salvias for the UK

Look for those that are more 'frost tolerant' than others.
Mostly these are the deciduous or herbaceous types, being dormant in winter they cope a lot better with cold and frost than the evergreen types.
They will still need a well drained soil as water logging over winter can cause rot. One of the best is Salvia bulleyana (from china) perhaps one of the hardiest salvias for the UK.
This list includes : Salvia argentia with its silver foliage. Salvia aurea or 'golden sage'. Salvia chamaedryoides or 'gerrymander sage' is blue flowering species regarded as 'half hardy'. Salvia sylvestris, Salvia uglinosa and the late flowering Salvia leucantha are others that do well in the UK
You may also like
Salvia Plants for sale online in the UK

MOUNT FOLLY NURSERIES
Southwick Road North Boarhunt Near Wickham Hants PO17 6JH
Phone: 01329 832294 : : 07000 M-O-U-N-T-F :: 07000 F-U-C-H-S-I-A
Young plants specialists. Growing Fuchsias, Geraniums, Patio Plants and Plug Plants. One of the best selections available in the UK direct from the grower!
www.mountfolly.co.uk
NORTHBROOK NURSERY phone: 01202695256
marg@northbrooknursery.co.uk
47 Northbrook Road, Broadstone, Dorset BH18 8HD
Salvia - Small nursery selling unusual perennials for your garden. Ring for appt.
THE PLANTSMAN'S PREFERENCE
Church Road, South Lopham, near Diss Norfolk NO POST PLEASE
Phone +44 (0) 7799 855559 or +44 (0) 7733 074141 - email tim@plantpref.co.uk
SPECIAL PLANTS
Greenways Lane, Cold Ashton, Chippenham, Wilts SN14 8LA
Tel: 01225 891686 - email: derry @specialplants.net
You may also be interested in :