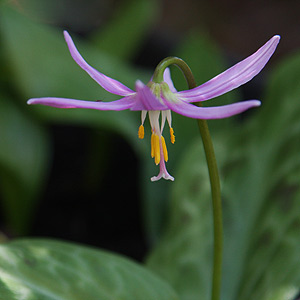 Erythronium revolutum
A wonderful little woodland plant from North America, Erythronium revolutum is spring flowering and grows well in containers as well as a woodland garden. Also known as the 'Dog's tooth violet' or 'Pink Fawn Lily'
These attractive little plants with single pale pink flowers and nicely mottle foliage will happily naturalize into the garden given a humus rich moist soil and good filtered light.
Excellent beneath deciduous trees or in a clump in the shady border.
Care
Although these are a hardy plant they do require good conditions to thrive. Prepare the soil well by digging in lots of well rotted compost and some aged animal manure a month or two before planting.
Although they do like moisture Erythronium revolutum do not like soggy conditions, so reasonable drainage is essential. Deep shade is not suitable, good light but filtered is best.
Propagation
Established clumps can be divided in late summer to autumn, or the patient gardener can grow from seed. Seed is collected in summer when the seed is easily shaken from the seed pods. Most growers put the seed through 5 -6 weeks of cold stratification before sowing. From seed Erythronium revolutum may take 6 years to flowering.
You may also be interested in :