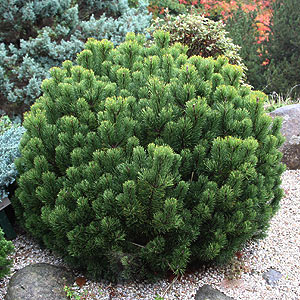 Pinus mugo pumilio
Low growing conifers offer some wonderful landscaping solutions and Pinus mugo pumilio or 'dwarf mugo pine' is an excellent example.
Attractive rounded form and usually reaching a height of .5m, however as with all trees actual height will differ according to conditions and the individual plant.
Dark green foliage through the year, new foliage a brighter green, small plants are available for as little as £7, however, due to the slow growing nature, larger specimens will not be cheap.
Care
Best grown in a sunny position in a humus rich well drained soil, water well during establishment, use a seaweed fertiliser in initial stages and a general purpose slow release fertiliser after that.
Pruning is minimal however a tidy up to shape can be carried out in spring if required. If you do prune in spring you will find that Pinus mugo pumilio will not produce the small brown cones in late summer, this may or may not be an issue. Frost hardy, and in general requiring little care once established.
Evergreen
Long lived
Easy Care
Full sun to light afternoon shade, best in full sun.
Landscaping uses
The Dwarf Mugo Pine can look great in the border, rock garden or as a specimen in a potter container. Excellent in a Japanese garden design. In the rock garden it can be planted with Heaths and Heathers, especially the lower growing types.
You may also be interested in