Pieris Japonica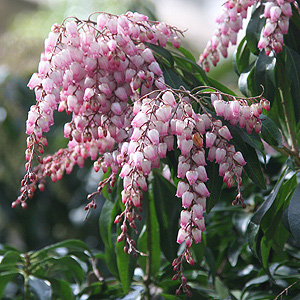 A much loved small to medium evergreen shrub Pieris japonica is also known as the 'Lily of the valley bush' with masses of dainty bell like flowers that form in clusters.
The attractive bell shaped flowers that appear in spring give this plant its name. Foliage is attractive with new growth being pink, orange or red tipped depending on cultivar.
Flowers vary in color from lovely pink tinged varieties (see picture right) to almost pure white depending on cultivar.
An excellent feature plant, or perhaps used in the garden border, P.japonica prefers a humus rich moist but well drained soil in a position where it has some protection from the hot afternoon sun, part shade, or even dappled shade are suitable.
Depending on cultivar Pieris will reach around 2-3m although smaller growing or dwarf cultivars are also available.
Pieris japonica Care
Relatively slow growing Pieris japonica requires little pruning, dead or damage wood can be removed and plants can be trimmed to shape. Hard pruning of older plants seems to be successful. Dig in some well rotted compost and manure a few weeks before planting, water in well with some liquid seaweed fertiliser. Keep young plants well watered through summer, but not wet.
Pruning is generally not required other than the removal of dead or damaged growth. Plants can be lightly trimmed to shape if used for hedging.
Pieris japonica varieties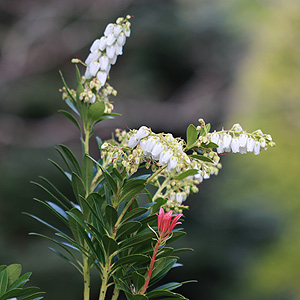 P. japonica 'pygmae' will reach around .7m and has narrow leaves. P. japonica 'William Buchanan' is even lower growing, reaching around .2m and with a spreading habit it could almost be used as ground cover plant. P. japonica 'temple bells' perhaps has the largest flowers.
With attractive new red growth (see right) , masses of pretty pink or white bell shaped flowers, and some with variegated foliage these are an excellent garden plant that also grow well in containers.
P. japonica 'little heath'

P. japonica 'forest flame'

P. japonica 'mountain flame'

P. japonica variegata

P. japonica 'valley valentine'

P. japonica 'dorothy wyckoff'
Pieris japonica are available for sale from the following nurseries
SPRING REACH NURSERY
Long Reach Ockham Surrey GU23 6PG - Tel: 01483-284769 Fax: 01483 -284769
An award winning plant nursery and one of the South's best kept secrets. We are set in heart of Surrey, and only 5 mins drive from RHS Wisley. Includes Pieris.
You may also be interested in