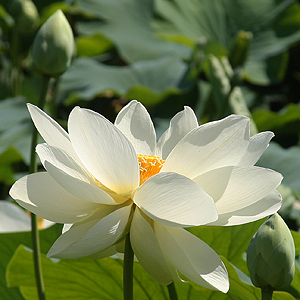 Lotus Flowers
The Lotus flower is Nelumbo nucifera not Nymphaea which is the water lily, and of all of the lotus flowers it is the white flower that is the most sacred and well known.
The Sacred Lotus that is important in Buddhism and other Indian religions is also seen in Egyptian culture however it is found as far as Indonesia.
The so called 'Blue Lotus' is actually a Water Lily (Nymphaea cerulean) not a lotus at all.
Lotus Varieties
White Lotus
Important both in Indian religions and Ayurvedic medicine it is the religious symbolism of the white lotus (pictured above right) that is most important. Seen as a sign of purity of mind and spirit in Buddhism these flowering wonders grow in muddy waterways and the foliage and the flowers rise above (achieving enlightenment)


Pink Lotus
The pink or red form is the national flower of India and this is said to symbolise compassion and love.
Can you grow Lotus in the UK ?
Well yes and no, outdoors it is very difficult, in the warmer southern areas you may have a chance if you can create a suitable microclimate. However in most areas you will need a heated greenhouse.
In a greenhouse a large tank, pot or other container can be used, you do need to keep the water temperature at a minimum of 10C and you will need to ramp this up in summer. You will also need at least 6 hours of good sunlight a day to get lotus to flower.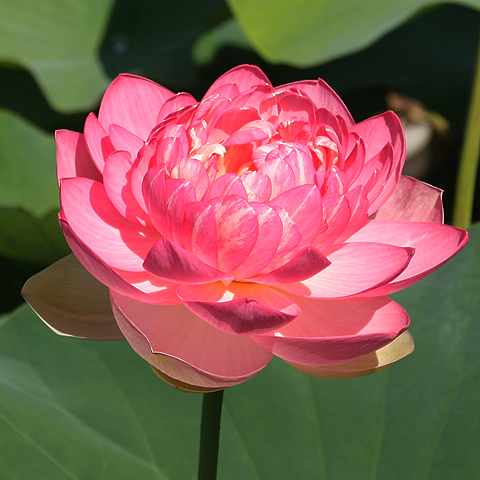 Nelumbo nucifera ssp. komarovii is reported to be a form from Russia and Northern China that is more cold tolerant. However, if night temperatures drop during spring to summer the flower buds seem to drop off. We have not seen it growing in the UK....
And above we have the wonderful Pink Flowering Lotus Mrs Perry Slocum, a beautiful double flowering cultivar bred by the American Lotus breeder 'Mrs Perry Slocum'.
We can all wish that our climate was that little warmer, however with so many wonderful flowering plants that we can grow in the UK, we should concentrate on the attainable.
People who like this also liked: