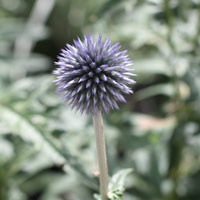 Echinops ritro or 'Globe Thistle'.
Echinops are one of the great blue flowering plants for the border and Echinops ritro is probably the best known of them all. Commonly called the 'Blue Globe Thistle' or more interestingly the 'Blue Hedgehog Thistle', they are really a Mediterranean plant, however they will grow well in the UK in the right conditions.
They attract bees and butterflies to the garden, have flowers that attract attention from everyone who passes by and also make great, long lasting cut flowers. So whats not to like ?
They self seed a little, so in a cottage garden, great, in a formal type garden, you will need to deadhead them.
Thriving in tough dry conditions, full sun and even poor soil these are an easy care plant given appropriate conditions.
It is really the steely blue flower heads that are the main attraction with Echinops, the foliage is interesting in itself but the electric blue globe shaped flowers really do call out for attention.
Echinops ritro Care
Reaching around .6m a position near the front of the border is probably best so that the flowers can be admired, good drainage is essential.
A few named cultivars are around including the popular Echinops ritro 'Veitch's Blue'. Echinops bannaticus 'Taplow Blue' is however a worth plant as well.
This is a perennial that will die right back in autumn when old foliage can be cleared or pruned. Given good drainage in winter the plants should reappear in spring.
Echinops ritro is available for sale from the following growers
WALKERS BULBS
Huge range of Bulbs available by Mail Order. Including Begonia, Dahlia, Lilies, Galanthus and many more.....
www.bulbs.co.uk
You may also be interested in :