Echinacea purpurea
Originally from the prairies and plains of North America, Echinacea purpurea (see picture right of the cultivar E. purpurea 'prairie moon') makes an excellent garden plant and is well suited to growing in a cottage style garden or as an intermediate plant the garden border.
Sometimes referred to as the 'Eastern Coneflower' as it tends to found in the eastern states. Remember that these plants will reach around 80cm to 1.2m depending on cultivar and growing conditions, consider the height when selecting planting position.
Lovely purple flowers with a deeper purple to orange cone in the early summer through to early autumn depending on conditions and cultivars. Also used as a traditional medicinal plant although we have seen no conclusive studies on its side effects or benefits. You will also find a number of white flowering cultivars available for sale.
Best known for its herbal or medicinal uses, Echinacea purpurea for us is a wonderful plant for the mixed border or cottage garden. As long as the soil is well drained, and the position is sunny it is a plant that presents few problems. They also make good cut flowers, attract bees to the garden, and the flowers are long lasting.
Echinacea purpurea Care
Full sun is best and a humus rich, moist but well drained soil are essential growing conditions. Echinacea purpurea require little care other than deadheading to prevent self seeding and cutting back at then of winter after the frosts are gone.
We only water in the summer as needed, Echinacea purpurea is fairly drought tolerant. In spring a little seaweed fertilizer combined with a worm casting tea seems to be all it needs, a slow release fertilizer would probably be sufficient if you feel inclined. These plants do not like to be disturbed so be careful and gentle when dividing larger clumps.
Summary
Plant Type - Hardy perennial
Flowers - Purple or white, daisy like with a 'cone shape'
Height - 80 cm - 120 cm
Position - Full sun
Soil - Well drained
Propagation - By division in late summer or early spring, we prefer early spring. Also from seed for the species.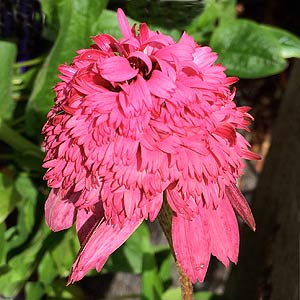 Echinacea purpurea Varieties and Cultivars
Echinacea purpurea 'alba' is a white flowering species, sometimes going under the name of 'white swan'.
E. purpurea 'magnus', 'prairie splendour' and 'ruby giant' a few are others to look for as well.
We are growing E purpurea 'prairie splendour' and it seems to flower a little earlier than the species, or that might be just where it is growing.
E. purpurea 'Rubinstern', another cultivar said to have slightly larger flowers.
E. pupurea 'Razzmatazz' (pictured right) has a double flower and a somewhat 'shaggy' look to it.

Echinacea purpurea is available for sale from the following nurseries :
BALI-HAI MAIL ORDER NURSERY
42, Largy Road city: Carnlough, Ballymena Co.Antrim BT44 0EZ - phone: 00442828885289
HARPTREE NURSERY
Bristol Rd West Harptree Somerset BS40 6HG - phone: 01761 221370: FAX: 01761 221989
WALNUT TREE GARDEN NURSERY
Flymoor Lane Rocklands Attleborough Norfolk NR 17 1BP - Tel: 01953 488 163