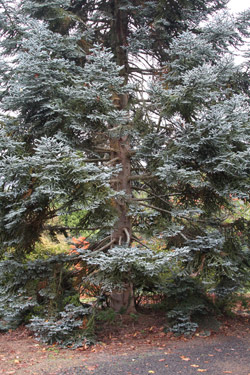 Abies procera Glauca
Also known as 'The Blue Noble Fir' Abies procera Glauca are magnificent trees are a native of western North America.
Found in the higher altitudes of the Rocky Mountains, this evergreen conifer is an excellent specimen tree that has a stately appearance and will add colour and decoration to the garden. It is a large tree with pyramidal shape. It is slow growing for the first two years until it is established and then has moderate growth habit.
A. procera Glauca can eventually reach 20m in height with a spread of 8 metres. The large upright cones are striking due to their large size (up to 25cm long) and their blue/grey colour that turns a beautiful bronze as the cones age.
A. procera Glauca is also grown for its outstanding blue foliage. The needles cover the stem densely with the spreading lower needles and upright inner needles creating a whorled effect. The bark of the young tree is smooth and silvery-grey. Later the bark becomes more textured and changes to a red-brown colour.
A procera 'Glauca' may produce deep pink flowers in spring. This Fir is hardy although it does not tolerate high winds. It enjoys well-drained, cool soil that is rich in humus and can be positioned in full sun or semi-shade.
Can be propagated by seed without needing any special preparation for good germination. The tree is very easy to maintain.
Varieties and cultivars
Abies 'Glauca Prostrata' is a low growing form reaching only about 18 inches in height with a spread of up to 6' with stunning flat, blue/grey needles that are soft to touch. It has a spreading, slightly weeping growth habit perfect for rock gardens and as a ground cover, for pots and containers, and for hillsides. This prostrate conifer enjoys acidic soil, moist conditions, plenty of sun, and a cool climate. It is frost tolerant. Prune any leaders to encourage spread and do not allow this plant to dry out.
'Glauca Nana' is a dwarf form of the Noble Fir and has i rregular, spreading branches. This evergreen conifer thrives in well-drained soil. It has stunning bright blue needles.
A slow growing conifer with attractive foliage Abies procera 'Glauca' has a nice pyramidical habit when young but tends to 'spread' a little as it ages. Grows well in full sun and is a hardy tree that need little care once established. Can reach 15m + . Makes a good background tree.
Other Abies species and Cultivars
Where to grow Abies
Abies are suitable for most gardening situations. Just be aware of final size as this varies greatly.
Best in full sun in the UK.
Abies care and growing hints.
Abies require little care and are generally a tough plant once established.
Popular Abies species include:
Abies procera, glauca prostrata, Abies koreana glauca prostrata, Abies Nordmaniana golden spreader, Abies concolor, Abies pinaspo, Abies balsamea, Abies lasiocarpa, Abiea concolor and Abies fraserii.
Abies species and Cultivars Details