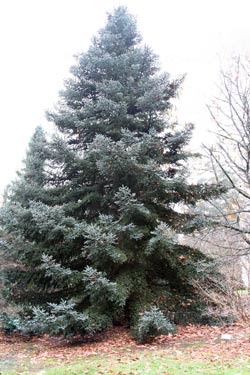 Abies pinaspo 'Glauca'
One of the great plant choices is the Blue Spanish Fir, wonderful foliage, almost 'statuesque' in habit and eye catching. The botanical name is Abies pinaspo 'Glauca', and it is a slow growing conifer with attractive foliage, an upright tree with attractive blue foliage.
The branches have an attractive layered habit the foliage is not prickly and in spring the pretty little pink to purple cones form on established specimens and contrast well against the blue green of the foliage.
Grows well in full sun and is a hardy tree that need little care once established. Can reach 12 - 15m .
The Blue Spanish Fir Makes a good background tree or specimen tree and could even be used as a screening plant or winbreak. Although it is originally from Southern Spain and nearby areas, it does grow at high eleveations so will cope with colder climates.
Hardy in the UK and drought tolerant once established.
Other Abies species and Cultivars
Where to grow Abies
Abies are suitable for most gardening situations. Just be aware of final size as this varies greatly.
Best in full sun in the UK.
Abies care and growing hints.
Abies require little care and are generally a tough plant once established.
Popular Abies species include:
Abies procera, glauca prostrata, Abies koreana glauca prostrata, Abies Nordmaniana golden spreader, Abies concolor, Abies pinaspo, Abies balsamea, Abies lasiocarpa, Abiea concolor and Abies fraserii.
Abies species and Cultivars Details