Thalictrum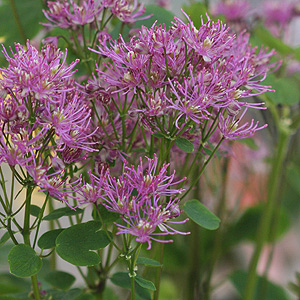 A wonderful plant for a shaded position in the garden border are Thalictrum species. Growing from rhizomes or tubers these spring flowering plants have attractive ferny foliage as well as pretty dainty flowers all held tall to around 1m.
Some smaller growing or dwarf cultivars of thalictum are now available including the white flowering 'blizzard'. All the attributes of taller species but suited more for the front of the border, or plant between taller species to create an interesting height difference.
Thalictrum Varieties
Thalictrum delavayi is one of the classic species, originally from China the foliage reminds us of a fern, and the deep pink flowers nod gracefully, contrasted by the white anthers.
Thalictrum delavayi 'Hewitt's Double'
Thalictrum delavayi var decorum is smaller are well worth looking for.
Thalictrum aquilegifolium with its fuzzy pale mauve flowers is an easy species for most of the UK
Thalictrum rochebrunianum is the giant of the genus, reaching nearly 2m, a 'tougher' looking plant but an excellent specimen.
Thalictrum tuberosum is a lowwer growing species that will reach only around .3m (1ft)
Thalictrum Care and growing conditions
Thalictrum can be grown from seeds or from plugs or seedlings. Grow for the foliage as well as the flowers. A humus rich moist soil in part shade works well.
The problem with seed growing is that fresh seed is needed, not much use buying packets of seed that may have been sitting on the shelf for months.
If you can collect fresh seed, plant into seedling trays of pots. Use a good potting mix, use a light covering of coarse sand and then the seeds, another light covering of coarse sand. Seds are ripe when they can be rubbed and the covering comes away easily.
If you plant the seeds in early spring they will be ready to be transplanted into the garden by early summer.
Thalictrum is a plant that grows well in moist shaded positions. T.rochebrunianum, Lavender Mist or is a clump forming perennial with attractive lavender flowers in spring. T. aquilegifolium has fuzzy lilac flowers that are help tall at 1m. Many species can grow in part sun as long as the soil is moist, however shade if preferred.
Care Summary
Choose a humus rich moist but wel l drained soil.
Dappled shade or at least afternood shade.
Keep moist during any dry periods from spring though summer.
Thalictrum plants are available for sale from the following nurseries

PRIME PERENNIALS NURSERY - Phone: 01974 241505
Llety Moel Rhos-y-garth, Llanilar, Aberystwyth Ceredigion SY23 4SG
Specialist mail-order nursery. Unusual perennials, bulbs and grasses. Special emphasis on the conservation & promotion of South African Tulbaghia from our NCCPG National Collection¨∆
CULM VIEW NURSERY - Tel: 01823 680698
Waterloo Farm, Clayhidon, Devon. EX15 3TN
We sell: Hardy herbaceous perennials, ornamental grasses and ferns, all grown in a peat-free compost. Includes: Thalictrum flavum 'Glaucum', Thalictrum delavayi and others. Mail order perennial and vegetable seeds.
www.culmviewnursery.co.uk
Orchid Resources for the UK