Kniphofia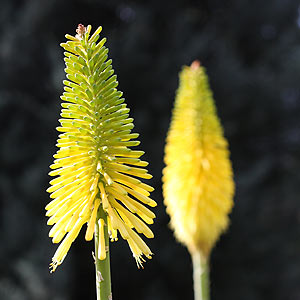 A tall growing plant Kniphofia or 'red hot pokers' come in a range of varieties and colours (including yellow) and are an evergreen perennial that grow well in a sunny position in a well drained soil especially in winter is essential.
Cultivars such as 'Percys pride' with lovely yellow/green flowers and 'Jenny Bloom' with its soft peach red flowers are popular and readily available for sale however the red cultivars are also an excellent selection for many garden borders.
Kniphofia Care
Kniphofia or 'red hot pokers' require full sun and a humus rich well drained soil to do best.
Kniphofia do not like to sit in wet soil as they tend to rot. Kniphofia can be cut back after flowering to tidy them up. Kniphofia can be divided in late autumn.
Requiring very little extra care, spent flower spikes can be removed and plants do appreciate a little mulch in late autumn. Divide older clumps in late winter.
Kniphofia Species for the garden include:
Kniphofia brachystachya
Kniphofia caulescens
Kniphofia hirsuta
Kniphofia rufa
Kniphofia sarmentosa
Kniphofia stricta
Kniphofia triangularis
Kniphofia uvaria
Kniphofia reflexa
Kniphofia are available for sale from the following nurseries
PRIME PERENNIALS NURSERY - Tel: 01974 241505
Llety Moel Rhos-y-garth, Llanilar, Aberystwyth Ceredigion SY23 4SG
Email: liz@prime-perennials.co.uk
Specialist mail-order nursery. Unusual perennials, bulbs and grasses. Special emphasis on the conservation & promotion of South African Tulbaghia from our NCCPG National Collection¨∆.
PENLAN PERENNIALS - Tel/Fax 01239 842260
Wern Rhos Newchapel Boncath SA37 0EN
Retail, Mail Order Specialists, Online Webshop, Peat Free, Organic, Aquatic, Marginal and Bog Plants, Waterlilies, Hardy Geraniums, Ferns, Grasses, Shade & Woodland Perennials. Free online catalogue.
WALNUT TREE GARDEN NURSERY - Tel: 01953 488 163
Flymoor Lane Rocklands Attleborough Norfolk NR 17 1BP
email: info@wtgn.co.uk
Offering a wide range of herbaceous perennials, ornamental trees,¨? shrubs and old roses; includes rare varieties and species and¨? well-loved classics; large plantsmans' garden.