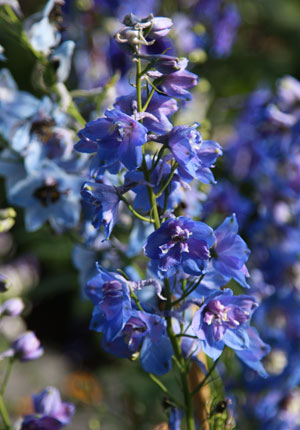 Delphiniums
Delphinium (larkspur) plants, seeds, flowers for sale in the UK include British Elatum Hybrid Delphiniums, and NZ hybrid Delphiniums (Dowdeswells delphiniums).
They are grown for their tall flowers during summer are an instant eye-catcher in the border.
And as for flower colors, Delphiniums are available in the usual light and dark blues, plus whites, pinks and more.
Delphiniums are available for sale from specialist Delphinium nurseries as plants or why not buy seeds.
Although seen as a cottage garden plant, some of the new lower growing or dwarf cultivars are well suited to growing in containers.
Delphinium Care
Delphiniums grow best in a humus rich soil and taller delphiniums may need staking. Remove old flower heads and with a little luck delphiniums may give a second flush of flowers.
Make sure that you choose a position that is well drained during winter so that the Delphinium crowns do not rot during dormancy.
Once plants begin to show signs of life in spring you will need to protect them from slugs.
Remember that most varieties will require staking.
Good air circulation will alleviate many of the fungal problems. Use a liquid seaweed fertilizer along with some blood and bone from spring though to autumn.
Delphinium plants and seeds are for sale fromthe following nirseries and seed suppliers

SPECIAL PLANTS - phone: 01225 891686
Greenways Lane, Cold Ashton, Chippenham, Wilts SN14 8LA
Includes: Delphinium 'Blue Butterfly' , Delphinium requienii.
LARKSPUR NURSERY - phone 01406 330830
Fourways, Dog Drove South, Holbeach Drove, SPALDING, Lincolnshire PE12 0SD
Rare delphiniums from cuttings supplied direct to the gardener.
CLAIRE AUSTIN HARDY PLANTS Hardy Plants - phone: 01939 251173
Edgebolton, Shawbury, Shropshire, SY4 4EL
Mail order specialists of herbaceous perennials, including bearded irises, herbaceous & tree peonies. The catalogue and website list over 700 different varieties.

DOWDESWELL'S DELPHINIUM LTD
New millennium Delphiniums, New Zealand Hybrid Delphiniums, photos, cultivation notes and the opportunity to buy delphinium seed for these glorious English hybrid type elatum delphiniums.
email terry@delphinium.co.nz
WEB: www.delphinium.co.nz

NEWPORT MILLS NURSERY -pPhone/fax 01823 490231
Wrantage, Taunton TA3 6DJ
Mail order nursery supplying. Elatum Hybrid English bred Delphiniums. English classic highly scented Perpetual Flowering Carnations. Old and modern scented Pinks. Free catalogue on request.
WALNUT TREE GARDEN NURSERY phone: 01953 488 163 Flymoor Lane Rocklands Attleborough Norfolk NR 17 1BP
Offering a wide range of herbaceous perennials, ornamental trees,¬? shrubs and old roses; includes rare varieties and species and¬? well-loved classics; large plantsmans' garden.
FURTHER READING