Winter Flowering Plants for the UK Garden
Winter may seem a quiet time in the garden; however, with the right choice of winter flowering plants you can have blooms, even during the cold UK winter.
Although bulbs such as Galanthus or 'Snow Drops' live up the name, and will flower through snow, a number of shrubs and perennials are also worth considering. The aptly named 'Wintersweet' or Chimonanthus praecox is one, the Mahonias and Hellebores are others.
Flowers that bloom in winter months can be planted close to paths and entries, or in pots. Flowers in winter are within the reach of gardeners, even in very cold areas, many plants will flower late in the season. Pieris japonica (pictured right is a favourite)
Where to Plant Winter Flowers
We tend not to get into the garden as much in winter, so flowering plants need to be placed where they can be seen and appreciated. Great flowers or colourful foliage tucked away in a part of the garden you do not visit can be wasted.
Plan carefully where to plant those precious blooms. Many of these plants can be grown in tubs or containers where they can be positioned to best advantage. Many cope well with rain, wind and snow, provided they have some protection from the harshest periods.
Shrubs for winter flowers
Pieris Japonica is a shrub that can be grown in a tub or container. The white to rose colored flowers form in late winter.
Camellias are often under rated. Selection of a variety of early and late bloomers will provide flowers throughout the season.
Daphne mezereum is a small growing, deciduous, early flowering daphne covered with masses of fragrant, lilac pink flowers followed by red berries.
Hamamelis mollis pallida, Hamamelis virginiana and Hamamelis x intermedia Ruby Glow are all excellent shrubs for winter color.
Flowering Quince (Chaenomeles speciosa), a native to East Asia is another great addition to the garden.
Mahonia japonica has attractive foliage and bright yellow flowers, Mahonia japonica 'Bealei' is one to look for.
Abeliophyllum distichum or 'White Forsythia' is another great deciduous plant for a semi shaded position. Flowers appear along the stems and Abeliophylum can be espaliered. Abeliophyllum distichum Roseum has rose colored flowers.
Winterhazel (Corylopsis spicata) has fragrant flowers and nice foliage that make it another worth considering. Wintersweet (Chimonanthus praecox) is a true cold season plant with fragrant flowers on bare stems.
Acacia (Wattles): In late winter these stunners from Australia provide some really bright, sunny colour.
The winter aconite, (Eranthis hyemalis),
Prunus x subhirtella 'Autumnalis'
Garrya elliptica 'James Roof' for its silken tassels in winter.
Viburnum x bodnantense 'Dawn'
Luculia (Luculia gratissima) has pink flowers and a strong perfume. Require good drainage, but are well worth the effort.
Sarcococca, Sweet box, or 'Christmas box' is an aptly named group of fragrant plants.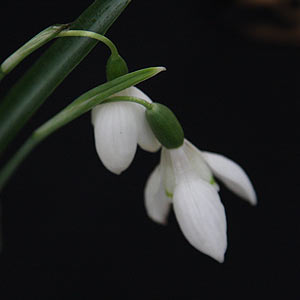 Winter flowering bulbs
Snowdrops (Galanthus) are a great bulb. They can be used in the border,rock garden or naturalized into the lawn. The diminuative Galanthus reginae olgae is pictures right.
Iris reticulata are tiny treasures well worth a place in the garden
Cyclamen coum works well.
Ground Covers for winter flowers
Hellebores (Helleborus) One of the real wonders of the colder months, Hellebores come in many colors and forms, and will also handle shade.
Bergenia is a low growing ground cover plant, probably at its best in early spring.
Look at your climate zone to determine which plants will suit you best. Check with your local nursery for details of flowering plants suitable for your area.
You May Also Like
MOWERS-ONLINE.CO.UK
Pole hedge trimmers and pole pruners are ideal for tackling those hard to reach climbing roses. View our large stock of these pruners online.

Pole Pruners