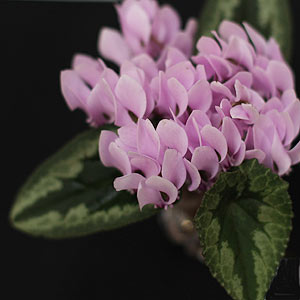 Cyclamen
With many varieties available for sale, Cyclamen are a much larger group of plants than many gardeners would think.
We do see the varieties known as 'florists cyclamen', often grown as indoor plants and widely sold as gifts. However their is a lot more to cyclamen species than this.
Even the well known Cyclamen hederfolium (see picture right) comes in many different leaf forms including a silver leaf form.
The flowers of many species are colourful and attractive, held high above the foliage in tones from white and pink to deep red, however the foliage of a number of varieties is also outstanding.
A hardy plant well suited to growing in the garden border as well as in containers. Originally from Mediterranean climates species such as C. Coum and C.Hederfolium grow well in the UK, and with species that flower in Autumn as well as in Spring they add color and life to any garden border or as a potted specimen.
Cyclamen Varieties
In the UK some varieties are better (hardier) in the garden than other. Some will fower in autumn, others in spring. Indoors you can grow most varieties, in the garden look for the proven types.
Cyclamen also have some very interesting foliage, marbled and mottled greens add interest throughout the season.
Cyclamen coum is a hardy winter to spring flowering cyclamen.
Cyclamen graceum is a bit of an oddity in that it prefers a hot dry position, but well worth a try for the beauty of its leaf markings.
C. hederifolium, coum and repandum are best for shade while Cyclamen suitable for semi shade include C. purpurascens, cilicium and intaminatum.
Care and Growing conditions

Tending to prefer a well drained position in dappled shade, plant tubers near or on the surface. Cyclamen hederfolium is popular in the UK with hederfolium flowering earlier than cyclamen coum and having nice marbled foliage, C. hederfolium album is the white flowering version. More details on care
Cyclamen Bulbs or Corms are available readily available for sale

FIR TREE FARM NURSERY
Tresahor Constantine Falmouth Cornwall TR11 5PL
Tel : 01326 340593
PENLAN PERENNIALS
Wern Rhos Newchapel Boncath SA37 0EN - Tel/Fax 01239 842260
BROADLEIGH GARDENS
Bishops Hull Taunton TA4 1AE
Phone: 01823 286231 Fax:01823 323646
WOOD COTTAGE NURSERY
Maidstone Road Nettlestead Green Kent ME18 5HJ
phone/fax 01622813311
Protection from frosts is essential
You may also be interested in :