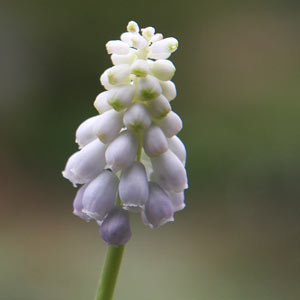 Muscari or 'Grape Hyacinth'
Muscari or 'Grape Hyacinth' plants and bulbs for the UK garden include species such as Muscari armeniacum and Muscari botryoides both commonly known as Grape Hyacinths.
They are attractive flowering plant suitable for rock gardens or for growing in containers.
Muscari Varieties
Muscari discolor is an interesting form with purple flowers tipped with white, a great container plants.
Muscari botryoides alba (see picture right) is a white flowering species, very pretty in a small clump.
Muscari azurum has a very intense color, more attractive than A.amenaicum in many regards.
Muscari Care
These really are an easy care bulb. Flowering in spring, choose a humus rich moist but well drained soil for Muscari. A sunny positions and a little liquid seaweed fertiliser in early spring. Although Muscari really need little to no fertiliser atb all.
Propagation of Muscari or 'Grape Hyacinth' is simple, by division in late summer when plants are dormant. Seed can be sown into trays in a cold frame in autumn.
Muscari bulbs are available for sale from the following nurseries
MINIATURE BULBS & WILDFLOWER BULBS - phone/Fax: 01423 542819
9 Greengate Drive, Knaresborough, HG5 9EN
Crocus - An extensive range of spring and autumn flowering crocus including specie and hybrids in a range of bright colours. Spring flowering are normally at their best in late February. Mail order spring bulb specialists.