Juniper plants, varieties and species
Juniper plants (Juniperus) are a conifer that include the common Juniper or Juniperus communis well known for its blue berries as well as a wide range of landscaping plants well suited to the UK garden.
Juniperus scopulorum Blue Arrow (Blue Arrow Juniper) is a popular upright or columular cultivar as is 'Skyrocket'. Creeping Juniper or Juniperus horizontalis is an excellent plant for dry areas or rock gardens. Mound forming species such as Juniperus squamata 'blue carpet' and the prostrate Juniperus sqaumata prostrata are also useful. Junipers are also used in Bonsai.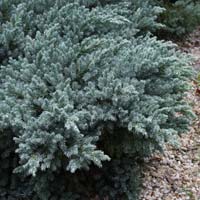 Junipers are well known for the plant that produces Juniper Berries - Juniper communis, however with many valuable landscaping plants included Junipers make a valuable contribution to many UK gardens.
Juniperus virginiana is the Eastern Red Cedar a tall growing tree. Juniperus communis compressa is a slow growing smaller plant well suited for troughs.
Pictured right is the low growing, Juniperus squamata-'Blue Star'
Chinese Junipers
The Chinese Junipers including Juniperus chinensis stricta, 'kuriwao gold' and others are all slow growing like many Junipers. Juniperus chinensis 'Kaizuka' will reach around 6m and with an excellent upright habit makes a good screening plant. Juniperus chinensis 'Blaauw' is another upright species with attractive blue green foliage. Juniperus chinensis 'Blue Alps' is a low growing spreading form, very hardy in a well drained position.
Care information
Junipers require little care once established. If you choose a well drained sunny position you should have little trouble. Phomopsis Blight (and other forms) can cause a canker. Prune and burn any diseased branches. Good drainage air circulation prevents most problems
They are slow growing, so larger specimens will not be cheap. Part shade is acceptable.
Pruning
In general pruning is not required other than to remove any damaged branches or to maintain shape. Relatively disease free in well drained soil.
Juniper plants and species are available for sale from the following growers
BLUEBELL ARBORETUM and NURSERY - Office telephone: *(01530) 413700.
Annwell Lane Smisby nr. Ashby de la Zouch Derbyshire LE65 2TA Owner: Robert and Suzy Vernon.
Mail order and retail nursery, huge variety of rare and unusual trees, shrubs, grasses, and herbaceous!

CREATIVE PLANTS - phone : 01404 850163
Lashbrook Farmhouse, Talaton, Devon EX5 2RU
Med iterranean plants, tropical plants, and exotics, palms, olive trees up to 80 years old, wisteria, and topiary

CHEW VALLEY TREES - phone : 01275 333 752
Winford Road Chew Magna Bristol BS40 8HJ
Top quality specimen and ornamental bare root and container grown trees, shrubs, hedging and fruit trees.

WEASEDALE NURSERIES Ltd - phone +44 (0)15396 23246
Newbiggin on Lune, KIRKBY STEPHEN, Cumbria, CA17 4LX UK
Mail-order specialists, bare-root hardy trees and shrubs. Includes: conifers