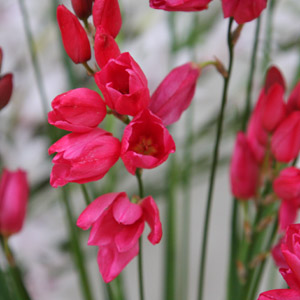 Ixia
Ixia are a bulb or corm native of South Africa and will flower in early spring. With very attractive flowers they are very desirable, however they can be a little difficult in the colder areas of the UK.
A number of varieties are available, the red flowering Ixia is a lovely vibrant coloured variety, Ixia viridiflora is particularly popular with its pale green to turquoise flowers.
Probably best grown in a container so that they can be overwintered indoors, remembering that they are early flowering and summer dormant. Frosts are a real problem.
Ixia Care
If you are lucky enough to live on one of the warmer areas of the UK and have a sunny position protected from frosts then Ixia may well work for you outdoors. In other areas, grow them in containers for a great display in spring.
Remember to repot every 2 - 3 years as potting mix does become exhausted, bulbs can be divided in summer.
Ixia bulbs are readily available by mail order.
Ixia Species for the garden include:
Ixia viridiflora

Ixia polystachya

Ixia tenuifolia

Ixia lutea

Ixia acaulis

Ixia paniculata

Ixia maculata

Ixia rapunculoides
Ixia paniculata (pictured right) is fairly rare in cultivation, although it does have very attractive creamy yellow flowers, perhaps one for warmer climates than the UK has to offer.
Ixia grow well in pots and can also do well in the rock garden. Ixia prefer a humus rich well drained soil. A sunny position will be best.