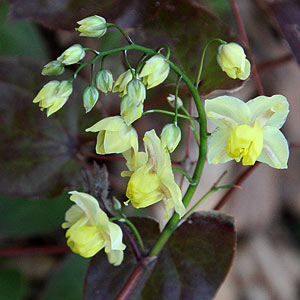 Epimedium x versicolor neosulphureum
An excellent ground cover plant, Epimedium x versicolor neosulphureum is well suited to woodland position, this is a plant that likes dappled shade and can handle a little dryness.
Deciduous to evergreen depending on the climate, the colder it is the more foliage it will drop in winter.
The wonderful yellow flowers in spring are a treat and when planted as a single specimen, or as a group in a rock garden.
Try beneath a deciduous tree or grown in a container, the foliage will add interest for months, copper tones.
Reaching a height of 25 - 40 cms little care is required once established.
Care and propagation
Many gardeners like to trim back old foliage in winter to spring just as new growth begins so that the flowers are more prominent and the plant gets a 'tidy up'. We do, but only sometimes, it really is a low care plant in our garden. A little moisture is appreciated, and although this is a fairly drought tolerant plant we like to give it some moisture during dry spells
A little liquid seaweed fertilizer in spring give the plants a lift. Frost hardy and one of the prettiest yellow flowering varieties Epimedium x versicolor neosulphureum has a lot going for it.
Propagation is easiest by division of established clumps.
You can find Epimedium x versicolor neosulphureum for sale at the folowing nurseries
CLAIRE AUSTIN HARDY PLANTS Hardy Plants - phone: 01939 251173
Edgebolton, Shawbury, Shropshire, SY4 4EL

EDROM NURSERIES - phone 018907 71386
Coldingham Eyemouth Berwickshire TD14 5TZ
You may also be interested in :