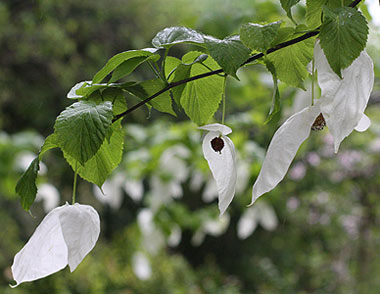 Davidia involuctrata
(Dove Tree)
Davidia involuctrata is a single species tree from western china. Often referred to as the 'dove tree' or 'handkerchief tree' this is one of our favourite trees.
Reaching up to 20m in height the Dove Tree has attractive green heart shaped foliage and the wonderful flower bracts hang below during spring.
Used as a feature tree or as an excellent shade tree in the larger garden. Just remember that it can take a number of years to flower, but worth the wait.
Care
Requires a protected position and a humus rich soil. Little pruning is required as it naturally grows to a nice shape. Any dead or damaged limbs can be removed. Stake when young to help provide a good upright trunk and prevent wind damage. Mulch well for the first few years a a canopy develops.
Once established Davidia involuctrata should require little to no water except in very dry years, and once it flowers you will be glad that you decide to plant your Dove Tree.
Planting Ideas
Underplant with hostas, hellebores, snowdrops, epimediums or trillium. Or perhaps grow in a formal lawn or a woodland situation
Dove Trees are for sale at the following nurseries

CHEW VALLEY TREES - phone : 01275 333 752
Winford Road Chew Magna Bristol BS40 8HJ
Tree nursery selling top quality specimen and ornamental bare root and container grown trees, shrubs, hedging and fruit trees. Available wholesale and retail nationwide.
FURTHER READING