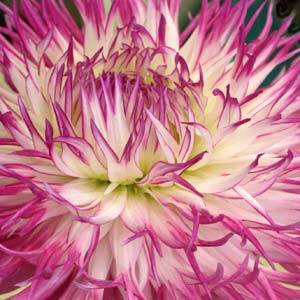 Dahlias
Dahlia plants are grown from cuttings, tubers or bulbs and will flower from mid summer and provide a great display of color in the garden.
With many new cultivars available for sale each year the choice of flowers and forms is incredible, see the Fimbriated Cactus Dahlia (picture right). Care is not difficult if you follow a few simple rules.
It is best to remember that Dahlias are originally from Mexico, so they are actually a fairly drought tolerant plant that needs a well drained soil.
We suggest that dahlia tubers planted in spring not be watered until signs of new growth are evident, this prevents rot setting in. Dahlia tubers need to be protected from freezing.
Dahlia Care and Planting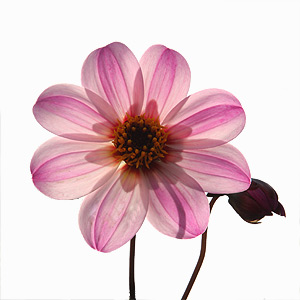 Grown from tubers and flowering from mid summer through to Autumn tubers are best planted in spring once the soil has commenced to warm and the danger of frosts has passed, the end of May is a general guide.
Prepare soil by digging in well rotted compost and manure 4 weeks before planting the tubers.
Remember that Dahlias like a moist but well drained soil.
Plants need to be placed around 2-3ft apart depending on the type and final size of the plant.
Place stakes to support taller growing varieties before planting.
Water in well after planting using a seaweed or fish emulsion fertiliser.
Dahlias make great cut flowers and last well vases, an excellent choice.
Storing Dahlia Tubers
Dahlia tubers need to be lifted in winter to avoid freezing in the growing and rotting.
Only in the best drained soils, and then with a protective mulch can they be left in the ground with any hope of surviving.
Tubers need to be stored in a cool dark place with good air flow, racks are excellent.
Tubers should be dry and clean when stored.
Dahlia Bulbs and Tubers are available for sale from the following participating nurseries

MOUNT FOLLY NURSERIES
Southwick Road North Boarhunt Near Wickham Hants PO17 6JH
Phone : 01329 832294 :: 07000 M-O-U-N-T-F :: 07000 F-U-C-H-S-I-A
Young plants specialists. Growing Fuchsias, Geraniums, Patio Plants and Plug Plants. One of the best selections available in the UK direct from the grower!
www.mountfolly.co.uk
ROSE COTTAGE PLANTS - Tel: 01992 573 775 Fax: 01992 56 11 98
Bay Tree Farm Epping Green Essex CM16 6PU
FURTHER READING