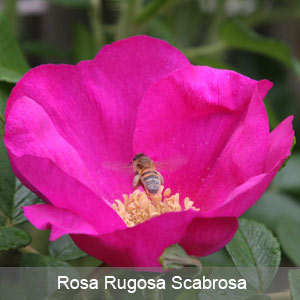 Rosa Rugosa Scabrosa

With its large open flowers Rugosa Scabrosa is an excellent rose. Large crimson to violet flowers, yellow stamens it is a wonderful old fashioned rose.
Flowers are perfumed and with a lovely yellow stamen, flowers are followed by brilliant red rose hips that add colour through the winter.
Widely regarded as one of the best rugosa type roses it will reach around 2m (6ft) in height but is usually pruned back to a shorter form.
Repeat flowering over spring through summer and into autumn this is an easy to care for rose.
Care
Like all Rugosa type roses this is an upright form, dense foliage and vigorous. Although it will cope with a little shade, full sun is best. Generally disease free in a sunny open position.
Pruning is best carried out in late winter to early spring as soon as things warm up a little and new growth commences. Why so late, well we like to leave the rose hips over winter where they add interest to the garden, even during frosts, when they actually look great.
Remove any dead or damaged canes at the base. Keep the centre open and remove any growth that is thinner than a pencil.
You can prune Rosa 'Rugosa Scabrosa' quite hard. They flower earlier on old growth than on new seasons growth, but are more prolific on new growth.
You May Also Like
Further Reading on Roses in the UK
You may also like these roses