Tulipa kaufmanniana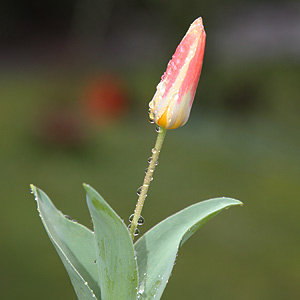 The low growing early flowering species, Tulipa kaufmanniana may only reach around 15cm (6 inches) in height however they are a delight in late winter to early spring.
The flowers open an ivory white, contrasted by the pale carmine edges. The subject of much hybridization over the years, kaufmanniana hybrids are also available in a myriad of colors. However there is something about the species that attracts gardeners back to the original.
The new flower buds appear rather pointed and tightly closed, showing of those carmine edges. In cold wet winters they can take a few days to open, when they do, the ivory flowers with their yellow throats open to a classic flat waterlily shape, the carmine edges are now hidden beneath.
With a little protection the flowers are long lasting and are a real treasure at this time of the year. We suggest a position with protection from hot afternoon sun if you are in an area that receives this.
Care
The wonder of species tulips is that they are tougher than many of the hybrids and Tulipa kaufmanniana is no exception. If you plant the bulbs around 15 cm deep (6 inches) in a well drained soil they will happily appear year after year until the clump requires dividing.
You can of course grow these wonders in containers, look for a deep pot and use a good quality potting soil. Drainage is important in containers, and a dry summer is also required, so after the foliage has died back, put containers away until the following autumn. You can also naturalise these bulbs into a lawn, plant them near the front of the perennial border or grow them in a rock garden.
Propagation
Although Tulipa kaufmanniana can be propagated from seed sown into trays in spring, the easiest method is to divide established clumps every 4 - 5 years.
Kaufmanniana Hybrids
Far to many to name, however hybridization has centered around intensifying the colors. The ivory petals have been developed to deep yellow and the soft carmine to crimson red. Look for some of the following, readily available for sale. We do find the species itself hardier and easier to grow from year to year.
Tulipa Stresa (kaufmanniana) - Deep red and yellow
Johann Strauss (kaufmanniana)- Golden yellow with a paler inner.
Ancilla (kaufmanniana) - red on the outside with a pink inner fading to white.
Tulipa Berloiz (kaufmanniana) - Yellow with a blush of red.