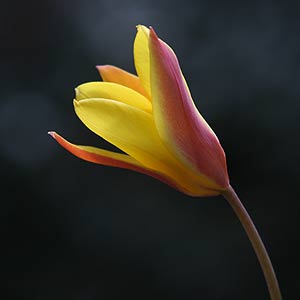 Tulipa clusiana
An old species from Turkey, Tulipa clusiana is early flowering and very elegant. Lipstick red to pink outer tepals and white inside on tallish stems appear ealy in spring, the foliage is a pale olive green, straplike in appearance.
Also known as the 'Lady Tulip', as with many tulip species the colors are a little variable, and with selective hybridisation over the years you will find varieties that are red and yellow as well as paler pinks.
Tulipa clusiana will reach a height of around 15cm and although when fully open this tulip is attractive many gardeners prefer the look of the partly opened flower where the colors are shown off in their full.
We grow this species in a few places in the garden as well as in containers, a few bulbs have found their way into the lawn, and the seem happy here as well.
Care
These are another easy care species tulip. Growing well in a sunny position as long as the soil is well drained.
Bulbs are rather small and can be planted in cracks and crevices in garden walls as well as left to naturalise in the border.
This is a species that has been in cultivation for nearly 500 years, it will spread naturally by division, and can be grown from seed collected in summer.
Varieties
Tulipa clusiana var. chrysantha, red outer tepals and golden yellow inside.
Tulipa clusiana 'Cynthia', red outer tepals with a paler yellow to green inside.
Tulipa clusiana var. stellata, pink and white.
'Tubergens Gem', larger flowers bold red outside white inside