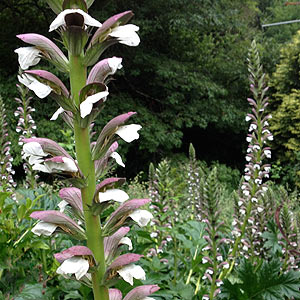 Acanthus mollis (Bear's breeches)
A plant that can add great structure when in flower Acanthus mollis (also known as Bear's breeches or Oyster plant) have attractive tall flower spikes that are long lasting and provide some height in the border.
The flowers are white and a muted purple with upward of 40 flowers on each spike, they will appear from the lower part of the flower spike, opening progressively. Foliage is glossy deep green, deeply cut and attractive.
Is Acanthus mollis invasive ? It will self seed and could be a problem if left, however plants are easily removed and if you deadhead before seed set you should not really have any problems. In warmer areas they will self seed readily, in cooler climate they tend not to.
Acanthus mollis Care
Although they grow well in full sun, these are a shade tolerant perennial plant that will also cope well with dry shade.
However in deep shade many gardeners find that Bears breeches have problems and are not flowering as prolifically as they wish.
Acanthus mollis send down long tap roots which makes then tolerant of dry conditions, they do not cope with waterlogged soils.
Propagation

Easiest from offsets best removed when they are small so as not to damage the tap root.
Varieties
Look out for the yellow foliage cultivars 'Hollards Gold' and 'Tasmanian Angel'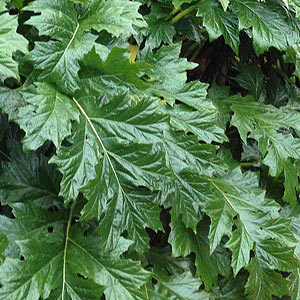 Summary:
Full sun to part shade
Humus rich deep well drained soil
Height of 1.5m
Will spread to form a clump
Deadhead to prevent self seeding
Plant Acanthus mollis away from plants that are easily crowded out.
John Allman
Acanthus mollis are available for sale from the following nurseries

MOUNT FOLLY NURSERIES - Hotline Phone: 01329 832294
Southwick Road North Boarhunt Near Wickham Hants PO17 6JH
Young plants specialists. Growing Fuchsias, Geraniums, Patio Plants and Plug Plants. One of the best selections available in the UK direct from the grower!www.mountfolly.co.uk
THE PLANTSMAN'S PREFERENCE - Phone +44 (0) 7799 855559 or +44 (0) 7733 074141
Church Road, South Lopham, near Diss Norfolk NO POST PLEASE
Open Friday - Sunday, 9.30-5.00 March to October inc.
HARPTREE NURSERY - Phone 01761 221370: FAX: 01761 221989
Bristol Rd West Harptree Somerset BS40 6HG
www.harptreenursery.co.uk
WALNUT TREE GARDEN NURSERY - Tel: 01953 488 163
Flymoor Lane Rocklands Attleborough Norfolk NR 17 1BP