Narcissus Bulbs and Flowers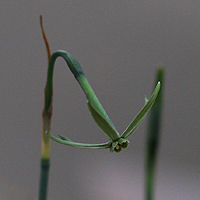 Narcissus is the botanical name of the genus of flowering bulbs that includes daffodil flowers and bulbs. With over 50 species and many hybridized cultivars the variety available is huge.
So when we look at plants such as Narcissus viridiflorus Flower, pictured right only a faint resemblence to the common daffodili is evident.
As for names, we have the the Bulbocodium Daffodils which will show the characteristics of Narcissus bulbocodium, the Cyclamineus Daffodils are developed from Narcissus cyclamineus and so on.
The species themselves have some fascinating flowers N. romieuxii is one that we love with its clear yellow flowers in late winter, foliage is grass or rush like and it will naturalize fairly well in the rock garden, try a sheltered spot as winds tend to knock them about a little, we grow ours in pots. Narcissus bulbocodium or 'hoop petticoat daffodil' is another we like to grow.
Narcissus species are the parents of all of what we know as daffodils. We present a guide to Narcissus (Daffodil) bulbs for the UK. Guide to planting, care and flowers of these spring flowering bulbs.
Not all Narcissus look like Daffodils!

We are all familiar with the bright yellow trumpets, however many species look a lot different to that.
Species Narcissus or 'Daffodil' bulbs are interesting to collect, maybe not quite as bold as the hybrid daffodils we are most familiar with, but certainly fascinating, sometimes spectacular and always a talking point.
Pictured above is the Autumn blooming Narcissus viridiflorus, a rare species daffodil. Fascinating small green flowers are in dainty clusters atop a single stem/leaf. These have a very sweet scent and will grow to 20cm.
Where can you buy Narcissus bulbs
You can start online with our list of Daffodil Bulb Suppliers. You can look at the plant fairs especially in early summer where some rare treasures can be found. Or you can look at some of the amazing hybridized seeds available if you would like to grow some on.
Narcissus species include:
Narcissus longispathus
Narcissus asturiensis
Narcissus papyraceus
Narcissus tazetta
Narcissus hispanicus
Narcissus obvallaris
Narcissus pseudonarcissus
Narcissus poeticus
Narcissus jonquilla
Narcissus triandrus - Narcissus hawera
Narcissus bulbocodium.
FURTHER READING