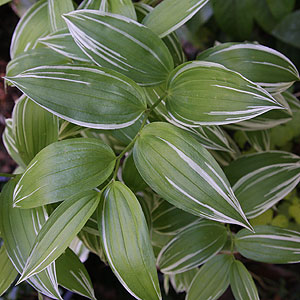 Disporum sessile 'Variegatum'
An attractive shade loving plant Disporum sessile 'Variegatum' has white striped foliage and small white flowers in summer and adds a touch of life to shaded position in the border, or grown in a container.
A creeping rhizomatous perennial Disporum sessile 'Variegatum' is grown mainly for the attractive foliage. (pictured right)
Reaching around .7m in height the foliage is glossy and stands erect. White flowers and followed by small black berries.
Care
A shaded position in a humus rich soil is best.
This is a plant that will spread by underground rhizomes, and we grow ours in a container in a shay position, a root barrier could be used to control spread if desired.
Disporum sessile 'Variegatum' is available for sale from :
SHADYPLANTS.COM - phone: 01452 812459
Upper Doreys Mill, Edge, near Painswick, Stroud Glos GL6 6NF
You may also like