Campanula takesimana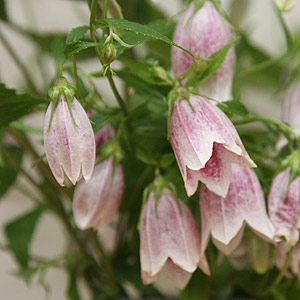 A hardy perennial Campanula takesimana also known as the 'Korean bellflower'.
An attractive addition to the garden border with its pretty tubular pink and white flecked flowers with deeper crimson spots that appear in masses in late spring through summer.
Suited to full sun or partial shade in well-drained but moist soil where it will quickly spread. Foliage is attractive heart shaped. Campanula takesimana is suited to a cottage garden.
The foliage first forms as a ground cover, the heart shaped rosettes are attractive right thought the season , and when the flower spikes shoot up, the dispaly is on.
Reaching a height of around .5m (2ft) only a few named cultivars are available as this is a relativle recent, and rare addition to the lists of most growers.
Campanula takesimana Care.
Best planted in a humus rich moist but well drained soil, Campanula takesimana is a little unusual in that is will grow and flower in light shade.
Use a general purpose fertilizer in spring as new growth commences. Applications of seaweed and vermicaste work well.
Deadhead after flowering to encourage a second flush of flowering as well as to prevent campanula takesimana from self seeding.
Plants can be cut back in winter or early spring. Dig in some well rotted compost and manure, water in new plants with a seaweed fertiliser.
Campanula takesimana Varieties
Campanula takesimana 'Elizabeth' with its deeper almost maroon bells is one that was first found in Kent.
Campanula takesimana 'Beautiful Trust' is another, white 'spidery' flowers, most unusual and also known as 'Beautiful Truth'.
Campanula takesimana ' Alba' is a white flowering form.
Campanula Varieties