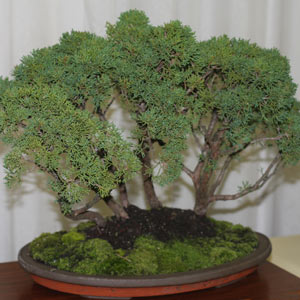 Bonsai trees
Bonsai trees are available for sale online, and many of the cheaper types are suitable for beginners. You do need to look for varieties that are easy care to start with, however most should come with simple how to row instructions.
The concept of indoor and outdoor bonsai trees is a little misleading. Although they are often displayed indoors, they do respond well to being outdoors for long periods.
The cheap, 'Corporate Bonsai' may make an interesting gift, however for long term growing, look to the experts.
Bonsai trees are extremely popular both as a house plant and outdoors and are available for sale from specialist suppliers and growers in the UK. Specilaist pots and pruning tools are also readily available for sale online to assist with the proper care of bonsai trees.
Bonsai literally means 'tree in a pot' .
The art of bonsai originating in China in the 1600s. Over the last 400 years bonsai has developed into a world wide art form. Bonsai involves restricting the growth of trees by controlling root growth, and careful shaping of tree trunks and limbs to create a representation of a tree in nature.
Are all small trees grown in a pot be considered a Bonsai Trees?
Not if we take into account the Japanese concept of mochikomi, broadly translated to mean the process of the tree ageing in the pot for 10 years or more.
Bonsai Trees have has 5 major styles.
Moyo-gi, an informal but upright style.
Shakan, a leaning trunk or slanting style which gives a feeling of a natural windswept tree
.Kengai, in this style the trunk bends down sometimes even over the side of the pot, as if weighed down by snow, or grown on a cliff.
Hokidachi, a fan like style, often symmetrical.
Bunjin-ji, a style that is a representation of the ideal form of a tree.
Indoor Bonsai
Those best suited for long term indoor conditions are the tropical to semi tropical species. This is true of many houseplants, constant temperature, good light and humidity. The temperature part us easy, the light and the humidity will need to be controlled.
Most bonsais sold as 'Indoor plants' are evergreen, although even these will lose some leaves at various times of the year.
Some of the best indoor varieties include
Ficus

Jade

Chinese elm

Ilex

Olive

Cuphea
Outdoor Bonsai Trees
Although many Bonsai trees are mainly outdoor types, they can be brought indoors for reasonably long periods. However like all Bonsais, they will perform better with good periods outdoors throughout the year.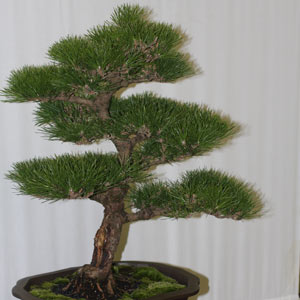 Many of the conifers are wonderful outdoor specimens, some of the best include
Chinese Juniper

Black Pine

White Pine

Cypress

Cedar
With the deciduous types, the Japanese maple is by far the most popular.
Other popular deciduous species include.
Korean Hornbeam

English Beech

English Elm

Willow

Ginkgo Biloba

Larch

Oak

Chestnut
Bonsai Trees are available fro sale from the following suppliers
BRITISH BONSAI
Storrington, West Sussex
Tel:- 01903 741318
Bonsai Supplies in West Sussex UK. Trees & tools sales online, by mail order & direct from the nursery.