Aquilegia chaplinii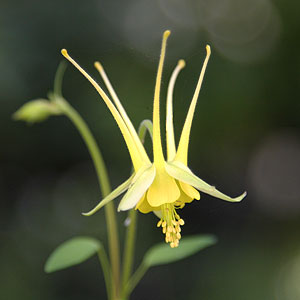 Chaplin's columbine is the golden flowering Aquilegia chaplinii , the botanical name is Aquilegia chrysantha var. chaplinei (syn Aquilegia chaplinii) and it has its origins in New Mexico and Texas usually found besides streams.
We have only grown this species for 2 years, however we have found it easy and very long flowering, in fact this year it has been flowering for 2 months and it is only the beginning of summer, it is still producing new flowers on a regular basis. It is a species with long spur, 4cm and more and very attractive yellow flowers.
In many ways is is similar to the species Aquilegia chrysantha var. hinckleyana although the flowers are more delicate.
Aquilegia chaplinii Care
A sunny position to part shaded position in a humus rich moist but well drained soil is best for Chaplin's columbine. A little protection from the hot afternoon sun fo A. chaplinii is a good idea, however with to little sun the flowers do not seems to develop the strong yellow color.
A little extra lime in the soil if that is lacking will help.
Propagation is from seed.