Snapdragon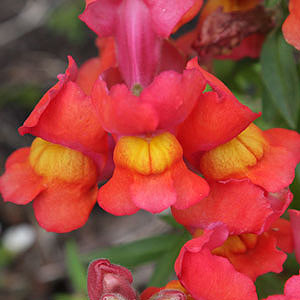 One of the all time favorite annuals are the Snapdragons, brightly colored flowers that are said to look like a dragons face. So children love them, squeeze the flower and the dragons mouth opens. It is the color combination and these happy looking flowers that make Snapdragons loved by so many gardeners.
Antirrhinum majus is the species, however snapdragons are sold with a wide variety of flower colors.
These tall flowering plants work well in cottage gardens as well as in mass plantings. And although we tend to think of them as tall, you can also get dwarf varieties.
It is the brilliant colours of the flowers that draw our attention to these plants from white through yellow and pink to deeper reds, snapdragons have it all. Easily grown from seed sown in a cold frame in late winter, ready for planting out in spring, but wait until the last frosts are over, or you may need to start again
Antirrhinum majus is the Common Snapdragon and can be grown from seeds.
Snapdragon Varieties
Generally this is in terms of height.
Tall - If you are looking for cut flowers, look for the taller growing varieties, however they will need staking.
Medium - Best allrounders and usually do not need staking.
Dwarf - Excellent in containers and hanging baskets as they tend to trail a little.
Named cultivars and collections are also available for sale including :
Antirrhinum majus 'Chantilly Peach' - As the name suggests, soft peach pastel tones in the flowers. These are tall growing to over 1m. The 'Chantilly' series is available in white, yellow, pink and orange.
Antirrhinum majus ' Night and Day' - Crimson Red Flowers.
Antirrhinum majus 'Royal Bride' - A wonderful white cultivar, deep green foliage and pure white 'fragrant' flowers, reaching to a little under 1m in height.
Antirrhinum majus 'Rocket Red' - Tall, deep crimson red flowers and fairly sturdy.
Antirrhinum majus 'Lucky Lips' - White flowers with a pink mouth.
Antirrhinum majus 'Candy Showers' - A dwarf snapdragon, trailling habit and excellent for hanging baskets.
How to Grow Snapdragons.
You can buy them as plugs and mass plant in earlt spring, or you can grow them from seed. Excellent in hanging baskets, and as long as they get good sun and some moisture they are happy.
You can prune them back a little to create a more compact habit, however most gardeners let them go. However a little pruning will help promote more flowers.
The taller types can either be planted amongst low growing pere nnials or they can be staked if you wish. The medium and low growing types are a little easoer as they rarely require support.
Growing Snapdraonds from seed.
If you are growing from seed be sure to look for rust resistant types. Seeds need to be surface sown as they need light to germinate. So press firmly into the soil, but do not cover them up.
Keep seeds moist until they germinate, usually around 2 - 3 weeks at a temperature around 10 - 15 C. Seeds are best sown in trays or flats and transplanted to the garden as they harden off and reach a managable size.
If the weather warms to over 25 C (80 F) they tend to stop flowering, not often a problem in the UK spring and early summer.
Watering Snapdragons
Good drainage is essential, in wet boggy soils they tend to suffer from root rot. So the idea of 1 inch of water a week as put forward by some is wrong. In fact let the soil dry a little, but never really dry, between waterings.
Summary
Full sun to afternoon light shade.
Seedlings can be planted at 20 cm aprt for mass plantings
Keep moist but not wet. Water in with a liquid seaweed fertilizer for good root growth.
Hill up the garden bed if drainage is poor.
Tip prune when young by pinching back for a bushy habit with more flowers
After flowering, cut bach to around 6 inches to promote new growth and a secong flush of flowers.
You can find Snapdragons for sale at the following nurseries.
MOUNT FOLLY NURSERIES
Southwick Road North Boarhunt Near Wickham Hants PO17 6JH
Phone : 01329 832294 : 07000 M-O-U-N-T-F : 07000 F-U-C-H-S-I-A
Young plants specialists. Growing Fuchsias, Geraniums, Patio Plants and Plug Plants. One of the best selections available in the UK direct from the grower!