Aesculus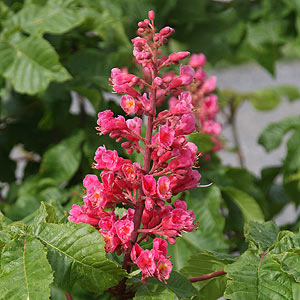 When it comes to Aesculus species, Aesculus parvifolia and Aesculus hippocastanum are two that come to mind. However it is Aesculus x carnea that is is the real head turner. This is a hybrid between A. hippocastanum and A. parvia and in particular Aesculus x carnea ' Briotii' with its deep red flowers is one of the best.
So although Aesculus hippocastanum the common 'Horse chestnuts' or 'Conker Trees' is a well known large deciduous tree. A number of other Aesculus varieties are also very useful landscaping trees.
In itself Aesculus hippocastanum is a very useful as a shade tree and planted in larger gardens for its ornamental value. It does have wonderful large white flowers in spring are the main attraction, however the cool green foliage through summer that turns a good autumn color add to the attraction.
The other species Aesculus carnea, Aesculus parvifolia, Aesculus pavia are the desirable forms for flowers
Varieties
Aesculus x carnea ' Briotii' - Brilliant red flowers on a tree that will reach around 15m in height. Although this is a hybrid, it does come true from seed. Also known as the 'Red Horse Chestnut'.
Aesculus hippocastanum - The common Horese Chestnut, white flowers on a tree that can reach 30 m in height.
Aesculus Care
Although container grown trees are readily available and easy to establish it is best to make sure that the root system is in tact. All Aesculus put down long tap roots, and damage to this can cause problems. So transplant carefully and try not to shift established trees.
Aesculus varieties are available for sale from the following growers.
CHEW VALLEY TREESTel: 01275 333 752
Winford Road Chew Magna Bristol BS40 8HJ
Tree nursery selling top quality specimen and ornamental bare root and container grown trees, shrubs, hedging and fruit trees. Available wholesale and retail nationwide.
Includes: Aesculus carnea 'Briotii', Aesculus Flava, and others.