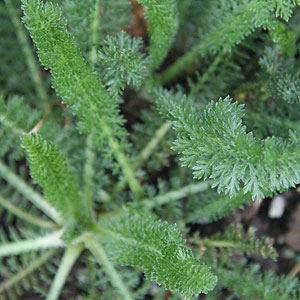 Achillea 'Mondapagode'
Probably the best white flowering Achillea we have grown, lovely ferny foliage ( see picture right) that is held close to the ground, large white flowers that turn to cream, rising well above in summer.
Fast growing once the weather warms up, and sun loving Achillea 'Mondapagode' will form a dense ground cover and reach around .5m when in full growth. Flowers in late summer to Autumn
Achillea 'Mondapagode' Care
A sunny position in a humus rich well drained soil is best. Over time Achillea 'Mondapagode' will form a dense clump and will need to be divided to maintain vigour.
If left for to many years the clump will become crowded and will die back in the centre.
Spent flower heads can be cut back to promote a second flush of flowers if required. Plants can be cut right back early in spring just as new growth begins. Achillea 'Mondapagode' will self seed, so deadhead if you wish.
Achillea plants are available for sale from the following nurseries

CULM VIEW NURSERY
Waterloo Farm, Clayhidon, Devon. EX15 3TN - Tel: 01823 680698
We sell: Hardy herbaceous perennials, ornamental grasses and ferns, all grown in a peat-free compost. Includes: Achillea others.
Mail order perennial and vegetable seeds - unusual varieties.
PRIME PERENNIALS NURSERY
Llety Moel Rhos-y-garth, Llanilar, Aberystwyth Ceredigion SY23 4SG
Phone: 01974 241505
Specialist mail-order nursery. Unusual perennials, bulbs and grasses. Special emphasis on the conservation & promotion of South African Tulbaghia from our NCCPG National Collection¨∆.
CLAIRE AUSTIN HARDY PLANTS Hardy Plants
Tel: 01939 251173 - FAX: 01939 251637
Edgebolton, Shawbury, Shropshire, SY4 4EL
We are mail order specialists of herbaceous perennials, including bearded irises, herbaceous & tree peonies. The catalogue and website list over 700 different varieties.
SPECIAL PLANTS
Greenways Lane, Cold Ashton, Chippenham, Wilts SN14 8LA
Tel: 01225 891686
Specialties¨?: hardy Geraniums, Grasses, hardy Impatiens, conservatory plants, tender Impatiens, Salvias, Pelargoniums, Seeds, Gardening gloves, new introductions from around the world