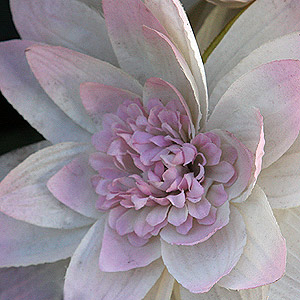 Water Lilies
Without doubt the showiest of the water plants is the the water lily. These are the Nymphaea species. They do require a little space although the smaller growing types are very versatile.
With stunning flowers that open during the day and close at night, water lilies are well worth considering for ponds as well as containers.
Waterlilies are not only great flowering plants but also act as biofilters and oxygenators.
These are some of the best known aquatic plants and vary in size from Nymphaea tetragona at 40cm upwards and are available for sale by mail order in the UK.

Growing Water lilies

Water lilies are classic aquatic plants. With over 50 species, both evergreen and deciduous ranging from tropical waterlilies to the more hardy types.

Water lilies require a sunny position if flowering is to be successful and remember to keep approximately 1/3 of the pond clear to improve appearance.
Planting depth of water lilies differs from species to species, so ask for written planting instructions when purchasing, and remember that water lilies do not like running water.
Water Lily Care
In general water at least 20cm deep is required. You can purchase "patio pots" that can be used to plant water lilies in and submerge into a pond, or as the name suggests, sit in a sunny position on a patio.
When planting us a container that is filled with soil and some aged cow manure. Add some slow release fertilizer and submerge the container.
Water lilies grown in containers will need to be divided and repotted every 2 - 3 years.
Water Lily Varieties

The native water lily is Nymphaea alba, known as the 'European White Waterlily' or 'White Lotus' this species does require a large pond to be really successful.
Nymphaea Marliacea Chromatella is one of the better species for smaller ponds, nice yellow flowers and suitable for ponds to 3ft deep.
Nymphaea Marliacea Rosea is another reasonably compact water lily with pink flowers.
Nymphaea 'Laydekeri Alba' is nicely perfumed with cup shaped flowers.
Nymphaea 'odorata Sulphurea' is an old fashioned style water lily with a classical elegance in its star shaped flowers.
The smallest water lily is probably Nymphaea tetragona flowers only 40cm in diameter this one could be grown in a small pond or even a water barrel. Nymphaea tetragona is sometimes called the 'Pygmy Water Lily'.
< h3>Water Lily Plants For Sale Online from Participating Mail Order Nurseries

WATERSIDE NURSERY
Sharnford, Leicestershire - linda@watersidenursery.co.uk - 07931 557082
Pond plants,deep water aquatic plants,marginal pond plants, miniature waterlilies,water gardening in bronze coloured containers for pond-in-a-pot patio ponds,mail order
www.watersidenursery.co.uk

PENLAN PERENNIALS
Wern Rhos Newchapel Boncath SA37 0EN - Tel/Fax 01239 842260
Retail, Mail Order Specialists, Online Webshop, Peat Free, Organic, Aquatic, Marginal and Bog Plants, Waterlilies, Hardy Geraniums, Ferns, Grasses, Shade & Woodland Perennials. Free online catalogue
www.penlanperennials.co.uk

BENNETTS WATER GARDENS
B3157 Chickerell Link Road Weymouth Dorset DT3 4AF
One of the growers of water lily plants in Europe with 50 years experience of pond plants. We sell quality aquatics by mail order and from our nursery in Dorset.
email: enquiries@waterlily.co.uk
You may also be interested in :