Veronica plants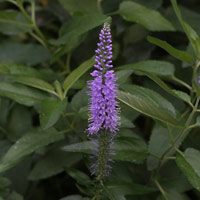 Easy care, eye catching flowers and as a matt forming perennial Veronics plants are provide color for long periods from late spring through summer.
Flower colors vary from white through to pink purple and some very good blues as well. Easy care and if tou remove the spent flower heads you may even get a great second flusch of flowers in late summer.
Veronica Plants are an easy care perennial and readily available for sale online, the many species and varieties are a popular border plant and work well as ground cover
Veronica Varieties
The plant we know a speedwell comes in a number of named cultivars which seem to change around regurarly. However we can go by flower color. Pure white, Lipstick Pink, Deep Pink Blue and Deep Indigo Blue just about cover the colors.
Then we have the dwarf or low growing varieties, these will reach around 30cm ( 9 inches) in height and are great near the front of the border.
Growing Notes
A favourite clump forming perennial border plant flowering from early summer through to autumn.
Veronica is a great plant for attracting bees, butterflies and birds and with its tall flower spikes and deep green foliage is an excellent accent plant. These are also wonderful plants for attracting birds, butterflies and bees.
Veronica Care
A sunny position Veronica or 'Speedwell' grows well in a humus rich moist soil, so mulch well and dig in well rotted compost and manure before planting. Water well while plants are young, once established you will find that they are fairly tough and drought tolerant in all but the harshest conditions that we have to offer. Good drainage is essential.
Humus rich moist soil.
Good drainage especially over winter.
Divide clumps every 3 - 4 years to keep them growing well.
Prune back to the basla growth either in autumn or very early spring, before new growth commences. Some gardeners prune back in summer as an alternative, this seems to work in warmer climates.
If you remove spent flower heads during the season you will find that these colorful plants will re flower, this is also a good time to tidy up a little.
Veronica spicata is perhaps the most widely used while V. incana is the 'wooly speedwell' and probably the most drought tolerant.
Veronica longifolia or 'long leafed speedwell' is pictured right.

Veronica plants are available for sale from the following nurseries
THE ALPIN E AND GRASS NURSERY
Northgate, Pinchbeck Spalding Lincolnshire PE11 3TB - Tel: 01775 640935
Mail order and wholesale growers of alpines/rockery plants and ornamental grasses. Specialist large range. Discount to landscapers for mail order service.
PENLAN PERENNIALS
Wern Rhos Newchapel Boncath SA37 0EN - Tel/Fax 01239 842260
Retail, Mail Order Specialists, Online Webshop, Peat Free, Organic, Aquatic, Marginal and Bog Plants, Waterlilies, Hardy Geraniums, Ferns, Grasses, Shade & Woodland Perennials.
You may also be interested in :