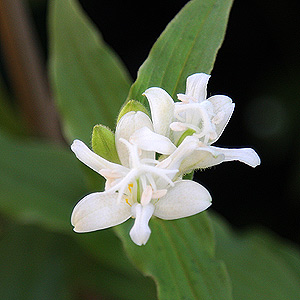 Tricyrtis or 'toad lily'.
With pretty flowers that resemble those of an orchid these hardy rhizomatus perennials flower in autumn and are a great addition to the garden.
They grow well in shade especially in warmer areas and require a humus rich moist soil to perform at their best. In cooler climates a sheltered position is best so that frosts are avoided.
A little water during dry summer periods is appreciated. A native to Asia (China, Japan and Himalayas) these wonderful woodlanders are very popular in Japan.
Plant these fascinating perennials where the flowers can be appreciated, try growing in containers or in a position close to a pathway. They do flower in autumn so it can be a little wet to wander down to see them.
Tricyrtis Care Summary
Generally these are a low care plant, they will need to be divided as clumps increase and the congestion causes a drop in flower quality. Perhaps once every 4 years if planted in the ground. In containers make sur you maintain moisture during summer. Container grown plants may need re potting every 2 - 3 years as the potting medium becomes exhausted.
Full sun to light shade in the UK.
Humus rich but well drained soil.
In colder areas a dry mulch in winter will protect plants fromvery cold periods and frosts.
In dry summers water with a liquid seaweed or vermicaste tea
Do not water in winter
Tricyrtis Propagation
Propagation is by seed germination or by cuttings taken spring. Well known species such as T.hirta will reach around 1/3m and with the purple flecked flowers adds interest to a shaded position. Keep moist though the summer as Tricyrtis do not like to dry out.
Tricyrtis Varieties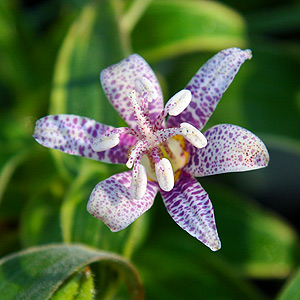 Tricyrtis hirta 'Miyazaki' with its star like flowers in late summer to early autum is one of the best selections. It will form a good clump over time and its spotted flower are sure to attract attention. (pictured right)
The blue flowering Tricyrtis lasiocarpa (Amethyst Toad Lily) is difficult to find, but an excellent addition to the garden, taller growing with lovely spotted petals, and perhaps better suited to warmer climates. T.backerii and T. lava are other well known species.
Tricyrtis formosana 'purple beauty' with its dark purple flowers that rise above the foliage is an excellent addition to the shade garden. Tricyrtis hirta 'Taiwan Adbane' is another woodlander that has lilac to purple flowers.
Tricyrtis latifolia and Tricyrtis formosana with its pale pink flowers with dark crims on spotting are others to look for. T. adbanii has a lovely lavender flower complemented by a red stigma, a striking species.
Tricyrtis plants and species are available for sale from the following nurseries

KEVOCK GARDEN PLANTS
Postal Address: 16 Kevock Road, Lasswade, Midlothian EH18 1HT - Telephone/Fax: 0131 454 0660
An award-winning specialist Scottish nursery with unusual alpine, bog, woodland and herbaceous plants, shrubs and bulbs. We send plants by mail order throughout Europe. Design service available.
BLUEBELL ARBORETUM and NURSERY
Annwell Lane Smisby nr. Ashby de la Zouch Derbyshire LE65 2TA - Telephone: *(01530) 413700.
Specialist mail order and retail nursery that grow and sell a huge variety of rare and unusual trees, shrubs, grasses, and herbaceous!
You may also be interested in :