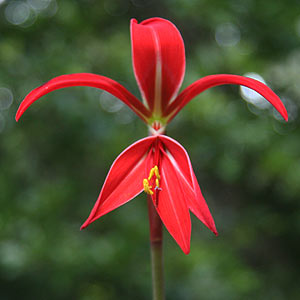 Sprekelia formosissiana
Also known as the Aztec Lily and Jacobean Lily Sprekelia formosissima has been grown in the UK for over 400 years. A bulbous perennial they are a native of Mexico they will need some protection in our climate.
A place in a conservatory, indoors or in the greenhouse is best in the UK.
Grown for the brilliant perfectly formed red flowers with wonderful contrasting yellow stamens they are related to Hippeastrum. The Jacobean Lily name comes from their association with King James and St James. The name 'Aztec Lily' from its association with the Incas.
Sprekelia formosissima is the species most commonly found for sale in the UK however a few varieties are available.
We have grown them for over 20 years and they happily multiply in their pots and actually require very little care.

Varieties

A few named cultivars are available including :
Sprekelia 'Orient Red' that is said to flower repeatedly in a good year and also said to be more hardy in the UK.

Related Species

Spekelia howardii is smaller growing with finer flowers, nit widely offered for sale
Growing conditions and care
Start then in the conservatory or enclosed patio and bring them indoors when the flowers open. They will good light, however they will look wonderful on a windowsill or side table.
Sprekelia bulbs need to be planted so that they sit one third above the level of the soil.
Keep moist during active growing period. A well drained soil is essential. All bulbs will not flower each year, so buy a few and plant in groups of 4-5.
Flowers May - June. You could grow Sprekelia in the ground, but they would need to be lifted in colder areas.

Top dress with some well rotted compost near the end of winter. As active growth starts you can water them, a little kick start with some liquid seaweed fertilizer will get Sprekelia going.
Propagation
Easiest by division of established clumps when dormant. Also possible from seed for those with the patience.
Problems
Mealy bugs are a problem and will stop flowering, so treat appropriately.
Sprekelia Bulbs are available for sale from the following nurseries
WALKERS BULBS
Huge range of Bulbs available by Mail Order. Includes: Sprekelia
www.bulbs.co.uk