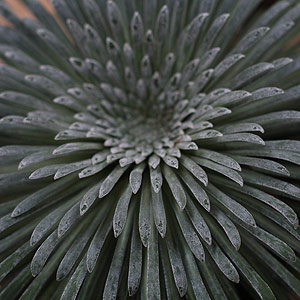 Saxifraga
Saxifraga or saxifrage are a versatile woodland or alpine plant. An extensive genus with over 450 identified species, they provide us with a range of ornamental perennial plants, many suitable for the rock or alpine garden.With habitat ranging from open rocky outcrops to woodland locations, Saxifraga are grown for both the interesting foliage and flowers.
Best divided into five groups :
The Mossy Saxifrages :
When you look at the green mossy mounds formed by the folage the name is obvious. This group requires moist conditions year round, they do like a cool climate. In colder zones they can be grown in full sun, however even in the UK they will need at least afternoon shade in the warmer south. Often what are sold will be S.arendsii hybrids, however the ones to look for are S. caespitosa, S. pedemontana,S. exerata, S. moschata and S. rosea.
The Silver Saxifrages or 'Encrusted Group' :
This group gets its name from the soil it grows in. They grow in lime soils, they take the lime from the soil it eventually encrusts the leaves, and the foliage looks silvery. slow growing and well suited to growingin alpine troughs and tubs. Species such as S. paniculata and Saxifraga longifolia also known as the Pyrenean Encrusted Saxifrage or 'King Crown' - pictured above right. The foliage is very symetrical and attractive,and when it does flower, it is rather spectacular and large species. At the other end of the size scal in this group we have S. minutifolia, a real miniature.
The Kabschia Saxifrages :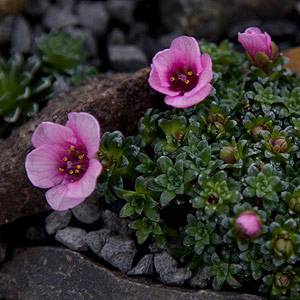 Slow growing and early flowering, they have had a name change, and are also known as 'Porphyrion'. Species such as Saxifraga burseriana and its many hybrids are ones to look for. Saxifraga x edithae 'Bridget Wilfred' is pictured right.
Saxifraga oppositifolia :
These are the ones that really do require cool climates, difficult to grow outside of the colder zones. Sometimes called the Purple saxifrage they do look wonderful in full flower in a conatiner, as well as in the rock garden.
All of the other Saxifrages :
The Saxifrage Society is an international society promoting Sa xifrage and related genus.
Saxifraga Species
Although with over 450 species it is a little difficult to narrow choices down to the '10 Best' some of the more popular species include :
saxifraga stolonifera
s. arendsii
s. paniculata
s. umbrosa
s. rotundifolia
s. grandiflora
s. purpurea
s. rubra
s. variegata
You may aslo be interested in :
Saxifraga plants are available for sale online from the following nurseries
KEVOCK GARDEN PLANTS
Telephone/Fax: 0131 454 0660
Postal Address: 16 Kevock Road, Lasswade, Midlothian EH18 1HT
TOUCHWOOD PLANTS
Carrie Thomas tel 01792 522443
Postal Address 4 Clyne Valley Cottages, Killay, Swansea, SA2 7DU
SLACK TOP NURSERIES
1 Waterloo House Slack Top Hebden Bridge
West Yorkshire HX7 7HA
phone: 01422 845348