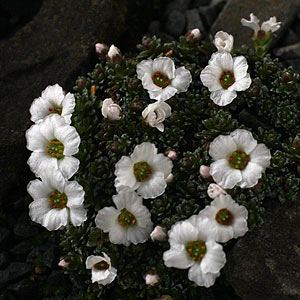 Saxifraga poluniniana
One of the wonderful species from Nepal, Saxifraga poluniniana has tight green foliage and open bell shaped flowers that point upwards. Pink in bud and of opening but quickly fading to white.
This is a species that is easy in the right conditions, it does not take to hot direct sun and requires a well drained humus rich moist open soil.
Care
We suggest growing either in a container where they will quickly spread to fill it, or in the rock garden in a position where they will receive morning sun and afternoon shade. The soil should not be allowed to dry out.
The Saxifrage Society is an international society promoting Saxifrage and related genus.
Saxifraga Species
Although with over 450 species it is a little difficult to narrow choices down to the '10 Best' some of the more popular species include :
saxifraga stolonifera
s. arendsii
s. paniculata
s. umbrosa
s. rotundifolia
s. grandiflora
s. purpurea
s. rubra
s. variegata
You may aslo be interested in :
Saxifraga plants are available for sale online from the following nurseries
KEVOCK GARDEN PLANTS
Telephone/Fax: 0131 454 0660
Postal Address: 16 Kevock Road, Lasswade, Midlothian EH18 1HT
TOUCHWOOD PLANTS
Carrie Thomas tel 01792 522443
Postal Address 4 Clyne Valley Cottages, Killay, Swansea, SA2 7DU
SLACK TOP NURSERIES
1 Waterloo House Slack Top Hebden Bridge
West Yorkshire HX7 7HA
phone: 01422 845348