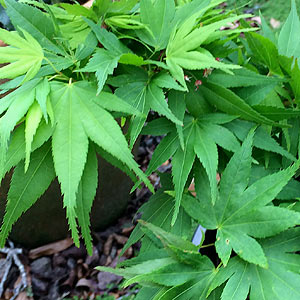 Acer palmatum 'Mikawa Yatsubusa'
Often put forward as the best small upright Japanese Maples, Acer palmatum 'Mikawa Yatsubusa' has a naturally dwarf habit that makes it wonderful for container growing as well as for bonsai.
Foliage is held close to the stems and over time it is a tree that forms attractive natural layers. The foliage appears in clumps and in a mature specimen it is a very attractive plant.
New foliage is a yellow, quickly turning to a pale and then mid green. Autumn colour os orange. The foliage itself may not be the fine lacy type that many gardeners admire, however the form of the tree is outstanding.
Care
A position where drainage is good is essential, protection from hot drying winds and hot afternoon sun is also important.
Requiring very little care once established, planting and site selection are the two important aspects of care.
Prepare the soil well digging in some well rotted compost and aged manure.
Stake the young plant and water in well with a liquid seaweed fertiliser.
Acer palmatum 'Mikawa Yatsubusa' will require no pruning and is an excellent choice for containers.
You may also be interested in :