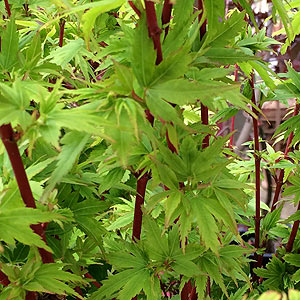 Acer palmatum 'Eddisbury'
One of the Coral Bark maples, Acer palmatum 'Eddisbury' is a vigourous upright small tree that will quickly reach 3m in height.
Attractive lime green foliage that contrast well against the mid to deep red new stems. Foliage turns to red and then a golden yellow in Autumn.
Care
Like most Maples, a cool moist root run in a humus rich soil is best. A little shelter from any winds is also best.
A good choice as a feature tree where the red stems are showy. Well suited to growing in a container in a courtyard or use as a specimen tree in the lawn. Try planting amongst Rhododendrons or Camellias.
Planting
Dig over the soil well and ammend with well rotted compost if needed. Ensure good drainage and 'hill up' if needed. Young specimens should be staked for the first year. Water well with a liquid seaweed fertilizer to promote good root growth.
You may also be interested in :