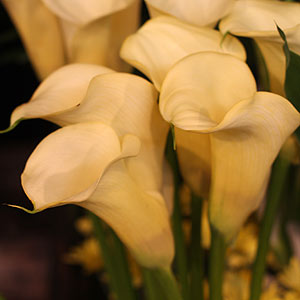 Calla Lilies
Zantedeschia or Calla Lily have flowers that are used widely by florists for many years and are a favorite bulb for the garden as well.
The white flowering Zantedeschia aethiopica or 'Lady of the Nile', the pink centered Zantedeschia 'Picaso' and Zantedeschia 'Black Star' are all popular cultivars.
Although Zantedeschia aethiopica is the most common species it is Z. elliotiana and Z. rehmannii that provide us with some of the most colorful flowers including the yellows and pinks, these two species are widely used in hybridisation.
Easy to grow and with an exotic feel to the flowers and foliage, Zantedeschia or 'Calla Lily' help give a tropical look to the garden.
Calla Lily Care
Growing from a rhizome, in a humus rich moist soil these are easy to grow once established. Problems include frost (see below), poorly drained soil which can lead to rot. Leaves can yellow through lack of sun, as well as over or under watering (also as they go dormant at the end of the season). Over fertilization can cause excessive foliage growth and no flowers. Wilt can be caused by over watering or hot humid conditions.
Best planted in a sunny position, with protection from the wind to help preserve flowers, the bulbs or rhizomes can be set around 10 - 15 cm deep. Remember that in good conditions they will increase over time to form a good clump, so plant a little distance apart.
Calla lilies can be grown in containers, however the larger varieties will need good sized containers as they will reach a height of 1m + and can become top heavy. Propagation is from division of established clumps or from seed.
Calla Lilies and Frost
The common white calla lily is Zantedeschia aethiopica, tall growing to over 3ft (1m) in height, and hardy. They seem to cope with frost more than other species, although a frost will blacken the foliage, with a little protection, such as covering of light mulch, straw or similar the crowns will usually survive winter outdoors. Zantedeschia pentlandii is a yellow flowering species, not offered often, it will also survive most winters outdoors with some protection.
Calla Lily Varueties
All other species - Z. elliotiana and Z. rehmannii, Z. albomaculata, Z. odorata , Z. jucunda and Z. valida will need to over wintered indoors. Rhizomes can be stored in a cool dark place, similar to many bulbs.
Calla Lily Bulbs are available for sale from the following nurseries
CRÛG FARM PLANTS - phone: (+44) 01248 670232
Bleddyn & Sue Wynn-Jones,
Griffiths Crossing, Caernarfon, GWYNEDD, LL55 1TU
We are a small nursery on the North Wales coast, which specialised in introducing new plants into cultivation, from seeds collect ed on our world-wide expeditions. Which include shade plants, climbers, species Hydrangea, Araliaceae, rare trees & shrubs, Convallariaceae, herbaceous & bulbous.
e-mail: info@crug-farm.co.uk
FIR TREE FARM NURSERY - Tel : 01326 340593
Tresahor Constantine Falmouth Cornwall TR11 5PL
We list over 4000 varieties of cottage garden and rare perennials, as well as over 100 varieties of Clematis. We offer mail order to the UK and Europe, and are open Tuesday to Sunday, from February to November. A catalogue is available on request, as well as on our website.
INCLUDES: ZANTEDESCHIA AETHIOPICA, ZANTEDESCHIA ALBOMACULATA, ZANTEDESCHIA ELLIOTTIANA.
e-mail: plants@cornwallgardens.com
You may also be interested in :