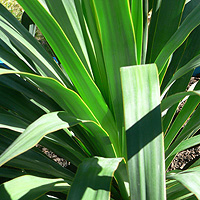 Yucca
(Agavaceae) Plant Profile
Yucca plants come from a very large genus. We can find yuccas in tree form or in smaller shrub forms. Yucca gloriosa is one popular species however with over 40 species of yucca, forms differ greatly.
Yucca are often used as architectural plants.
Increasingly popular in the UK both in the home garden and as landscaping plants, Yucca vary greatly in size and form, yucca brevifolia or Joshua Tree will grow to 15m. The soaptree yucca or yucca elata grows from2-5m depending on conditions. Yuccas commonly used in landscaping include lower growing types such as yucca gloriosa, yucca filamentosa and yucca flaccida. Of the taller growing varieties yucca rostrata is an interesting and perhaps sturdier form.
Yucca Plant Care
Yuccas are generally sun loving, however they will cope with some shade, in general yucca require a well drained soil. Yuccas are generally drought tolerant and require very little maintenance. Removal of spent flower heads, occasional watering and fertilizer application every month or two will keep your yucca in good condition.
Yuccas flower during autumn/summer and spring, so with some great flowering varieties you can easily add color to your garden. Yucca glauca is the floral emblem of New Mexico.Yucca treculeana is known as 'The Spanish Dagger' a spectacular yucca growing to 5m, the flowers of this yucca are said to be eaten in Latin America.
Yucca are suitable for growing in containers or pots, larger species are best grown in the ground.
Yucca plants are available for sale from these suppliers in the UK
SPRING REACH NURSERY - Tel : 01483-284769
Long Reach Ockham Surrey GU23 6PG
An award winning plant nursery and one of the South's best kept secrets. We are set in heart of Surrey, and only 5 mins drive from RHS Wisley. Includes Yucca flaccida and Yucca filamentosa.
HARPTREE NURSERY - Tel : 01761 221370:
Bristol Rd West Harptree Somerset BS40 6HG
Family nursery supplying hardy herbaceous stock, grasses and shrubs, plant sourcing service, garden design service Includes: Yucca flaccida ivory
HYDE COTTAGE PALMS and EXOTICS - Tel : 01905381632 Mobile 07909583512
Church Rd Crowle Worcerster WR7 4AT
Retail nursery in Worcestershire. palms, yuccas, bamboo, gingers, olives and loads more.
You may also be interested in :