Viola plants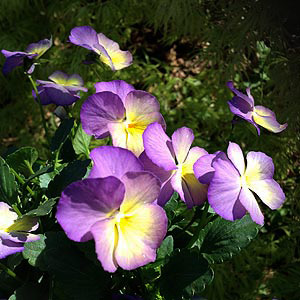 Violas (viola plants) are a great flowering plant that are easy to grow and produce masses of flowers.
Widely used in hanging baskets they are a smaller plant than pansies but we think they are their equal.
Absolute backbone plants in some gardens, Violas are easy care however a little confusion exists as to what Violas actually are.
Violas are the genus and the species are varied, in general, viola make a great ground cover plant, they include :
Hardy perennials such as Viola corsica always a favorite.
Viola odorata is the 'sweet violet' see Viola odorata 'alba'
Viola tricolor, also known as Johnny Jump Up, it self seeds and jumps up everywhere.
Viola cornuta is an evergreen perennial and V.cornuta 'Starry Night' (pictured right) is one of the many outstanding cultivars that are now available. These are the Tufted or Horned Violas.
Viola x wittrockiana, these are the hybrids that we generally call Pansy's. They are grown as annual in the UK and are widely used as summer bedding plants.
Growing and care of Viola Plants

They perform best in cool weather so best flowering is in spring and autumn.
A humus rich soil with lots of well rotted compost and aged manure is an excellent growing medium.
Violas are excellent in pots and hanging baskets.
Viola plants are available for sale from the following nurseries
MOUNT FOLLY NURSERIES
Southwick Road North Boarhunt Near Wickham Hants PO17 6JH
Phone : 01329 832294 : 07000 M-O-U-N-T-F :: 07000 F-U-C-H-S-I-A
Young plants specialists. Growing Fuchsias, Geraniums, Patio Plants and Plug Plants. One of the best selections available in the UK direct from the grower!
www.mountfolly.co.uk
LONG ACRE PLANTS
South Marsh, Charlton Musgrove. Wincanton, Somerset, BA9 8EX - Tel 01963 32802
Large range of unusual perennials, bulbs and ferns in any semi- or fully shaded position in the garden, grown here in Somerset using peat free compost.
You may also be interested in :