Verbascum Plants and Seeds. (Mullien)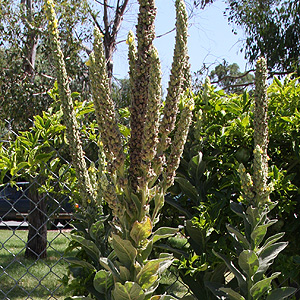 The tall yellow spires of Verbascum thapus (great mullein) are familiar to many gardeners. However new cultivars and other species are a little neglected by gardeners.
Verbascum bombyciferum is a hardy biennial or perennial, short lived but spectacular spires of clear yellow flowers to 2m, excellent in the cottage garden.
Verbascum olympicum is even taller. However it is with Verbascum chaixii that we get a little variation and a longer flowering period. This is a shorter species than most and with pretty white flowers with deep pink centres the flowers appear in spring and gradually open from the bottom of the plant upwards.
And as just about all gardeners will have seen, the Blue Verbascum 'Blue Lagoon', a star at the Chelsea flower show is a new release that is a real stunner. Purple centres and reaching a height of less than 1m. Well worth seeking out. With a little luck a few new colours will be on the way.
And of course the lovely rusty copper tones of Verbascum 'Helen Johnson' are also a great addition to the garden. looking for something a little shorter, try Verbascum 'Flower of Scotland'.
Verbascum Varieties
Popular species include :
Verbascum Thapus (great mullien)
Verbascum phoeniceum (purple mullien)
Verbascum Arctic Summer is an interesting cultivar with white wooly foliage and yellow flowers

Verbascum Care
Verbascum prefer a humus rich well drained soil in full sun and are relatively easy to care for. Remember to deadhead Verbascum after flowering to prevent self seeding.
Verbascum plants are available for sale from the following nurseries
HARPTREE NURSERY - phone: 01761 221370
Bristol Rd West Harptree Somerset BS40 6HG
Family nursery supplying hardy herbaceous stock, grasses and shrubs, plant sourcing service, garden design service. Includes: Verbascum jackie.
You may also be interested in :