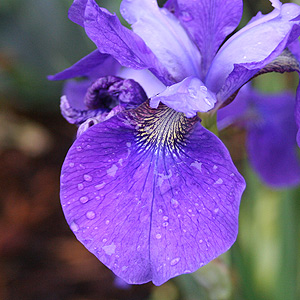 Siberian Iris
If you are looking for a flush of colour in early spring then Siberian Iris will do the trick. Exceelent in damp areas and a great filler for the garden border Siberian Iris or Iris Siberica are a fairly easy to grow iris that prefer sun and a moist soil. With bright flowers, usually in the blue to purple tone, white varieties are also available.
Siberian Iris will flower in late spring and with long arching foliage vary in height from 20cm to 100cm depending on cultivar and species. These are a tough iris that cope well with cold conditions as the name implies. Planted in a clump of 6 - 10 you will be rewarded with magnificent flowers in spring.
Siberian Iris Care
Growing Siberian Iris is not a great learning curve, the long lasting flowers followed by attractive green foliage in an easy care plant make it a good standby plant.
Tolerant of wet soils they are ideal for some of the more difficult spots in the garden. Dormant in winter they will spring back to life as the weather warms up. They do require good sun and will not flower well in shaded positions. A humus rich soil is best.
They are smaller growing than brarded iris, however larger than pacific coast iris, so they fill a spot in the garden height wise as well. Typical iris blooms with falls and sepals. Height will range accorcomg to the growing conditions and the cultivar itself. Generally ariub .6m (2 ft).
Dividing Siberian Iris.
Over time Siberian Iris will form a large clump, to promote vigour you will need to divide them. This will be required every 4 - 6 years. As soon as the flowers become a little less impressive its time to dig and divide.
You can do this at any time during dormancy.
How to plant Siberian Iris
If you can plant the bulbs or corms in autumn you will have a good flush of flowers in the first spring. Bulbs planted in spring may not flower the fiorst season. You can grow Siberian Iris in containers, however you will need to ensure good drainage.
Siberian Iris Care
Moist soil is the key to good growth and flowers. Siberian Iris will require water during dry summer periods.
If you have prepared the soil well, lots of good compost and humus dug in before planting you will achoeve two things, the required moisture retentive soil and a fertile growing medium.
Do not be tempted to fertilize with a nitrogen rich fertilizer unless you are after foliage growth and no flowers. Any fertilizer is best applied after flowering rather than before.
Siberian Iris Varieties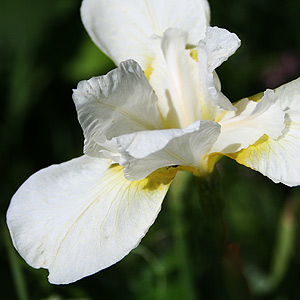 The common blue is popular and works well in many gardens, other colours are available.
Iris sibirica 'Castle Grace'
Iris sibirica 'Spakling Rose' has elegant rosy purple falls with white and yellow markings, rosy purple standards.
Band of Angels is a Siberian Iris with mediun blue falls with good whitemarkings, sepals are a violet blue.
Ama No Hane is a hybrid from Japan, white flowers with a tinge of lavender pink.
Silver Edge is a blue form with a silver margin on the falls.
Siberian Iris are available for sale from the following nurseries

AVON BULBS phone 01460242177
Burnt House Farm Nid Lambook South Pemberton Somerset. TA13 SHE
You may also be interested in :