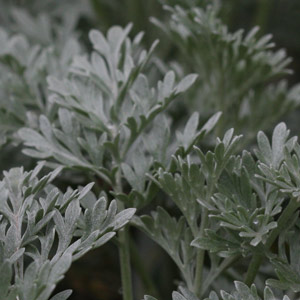 Artemisia Plants
Artemisia a favourite foliage plant in the perennial border also known as wormwood. A large and variable group, Artemisia species and cultivars such as absinthium, powis castle and vulgaris are all popular forms. A. vulgaris is also known a 'mugwort'.
Dwarf cultivars are available for sale such as Artemisia schmidtiana 'Nana' also known as 'silver mound'.
Probably the most widely grown is Artemisia 'powis castle', (see picture right) one of the great silver foliage plants, reaching around 1m 'Powis Castle' prefers full sun and a humus rich well drained soil, although hardy and able to cope with dry conditions, some water during hot dry periods is beneficial.
Excellent in the middle of the border where its foliage can be used as a foil for more colorful flowering plants, also great in the cottage garden. Masses of silvery grey foliage and heavily textured deeply lobed leaves add interest through the season.
Artemisia varieties
Artemisia are available for sale in a number of varieties, not all are large shrubs, although these are the types we most often see in gardens.
A number of species fall into this taller category. A. arborescens A. absinthium (prone to self seeding) A. pycnocephala and the cultivars A .'Powis Castle' which is a popular Artemisia arborescens x Artemisia absinthium hybrid, non flowering, which is an advantage as artemisia flowers are generally rather poor and unattractive.
Some of the lower growing species and cultivars are also worth looking for, they add a different element to the garden, Artemisia schmidtiana 'silver mound' is one. Artemisia stelleriana 'Broughton Silver' and 'Silver Brooccade' are two to consider.
If you can find it, Artemisia alba Canascens, Artemisia caucasica is an even lower growing variety, it will die back in winter even in mild climates to reappear in early summer.
Care and growing conditions
Requiring very little care other than a tidy up in spring, Artemisia is a hardy plant that takes kindly to pruning. Hard pruning is best carried out in early spring once the dangers of frosts is over, although avoid cutting back into old wood where possible. Older plants can easily be replaced as Artemisia are reasonably fast growing, although easy to keep under control.
Artemisia plants are available fro sale from the following suppliers
CLAIRE AUSTIN HARDY PLANTS Hardy Plants
Edgebolton, Shawbury, Shropshire, SY4 4EL - Tel: 01939 251173
We are mail order specialists of herbaceous perennials, including bearded irises, herbaceous & tree peonies. The catalogue and website list over 700 different varieties.
John Allman