DIY Water Features
Outdoor living has been popular for ever, even in cold climates, and water features add interest. From small to grandiose they are becoming so popular, both in the garden and a something to look out onto, especially in those colder months. Now if only you could build one in your own garden
It is always great to see ideas for water features, some are achievable others might be a little costly for the average gardener. However with a few DIY skill and maybe few basic tools you can make your own.
We look at three basic designs, varying in difficulty from easy to medium skills that you can make yourself.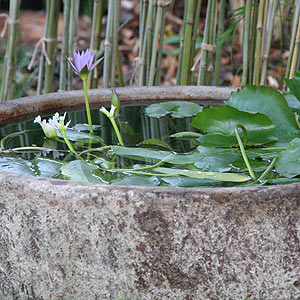 Water Bowls - The easiest of all
Water bowls are nothing new, they have been used in gardens for centuries and were widely used in Japanese and Chinese Temples where they were positioned near the entrance. They were placed so that the traveler could purify themselves as the entered
You will read the terms Chozubachi and Tsukubai, and they refer to the same thing. The Chozubachi is the bowl that you crouch down to get to the water. The Tsukubai refers to the whole design which may include stones and maybe a bamboo ladle.
So our first DIY water feature is simply a bowl, in our case one with an old fashioned look. And with some water lilies added in. Although we are not likely to drink from it, or wash our hands in it the inspiration is simple and it is achievable.
You will need :
A garden pot or trough
Water proofing spray or paint if the pot is not glazed inside
Some silicon to plug up the drainage holes
some small growing water plants to compliment the design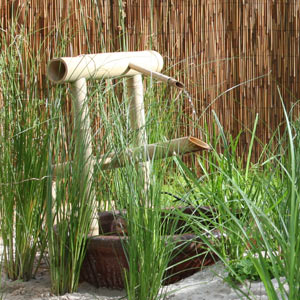 A Bamboo DIY Water Feature
Keeping in step with the Japanese theme, a simple bamboo water water feature is a little more complicated to build, however inexpensive and within the reach of most gardeners in terms of cost and skills.
A Shishi odoshi is one of the easiest and cheapest 'moving' water features to make at home. You might have seen one in the movie 'Kill Bill', it is a rocking water feature designed to make sounds that will scare deer's, so Shishi odoshi means 'deer scarer.
You will need
Bamboo poles.
Plastic tubing.
A bowl to catch the water.
A pump of some sort.
The obligatory silicon.
One of the main things to consider is the strength of the pump, you really want a slow flow of water so that the fountains only moves every few minutes. You could use a solar powered pump for this one, and place it anywhere in the garden.
A few You Tube videos demonstrate how they work.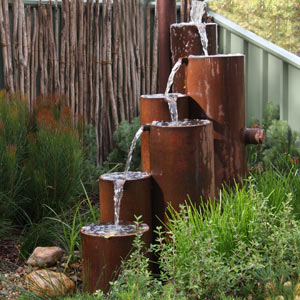 Recycled Pipes Water Feature.
This is getting a little more complicated, you will need some welding skills and access to old water pipes. This is a series of six pipes with water flowing from one to the other to form a cascade type waterfall.
You could use any type of pipe, it just depends on the aesthetics. Again you will need a pump that is strong enough to lift the water to the right 'head height'.
You may also be interested in
You May Also Like